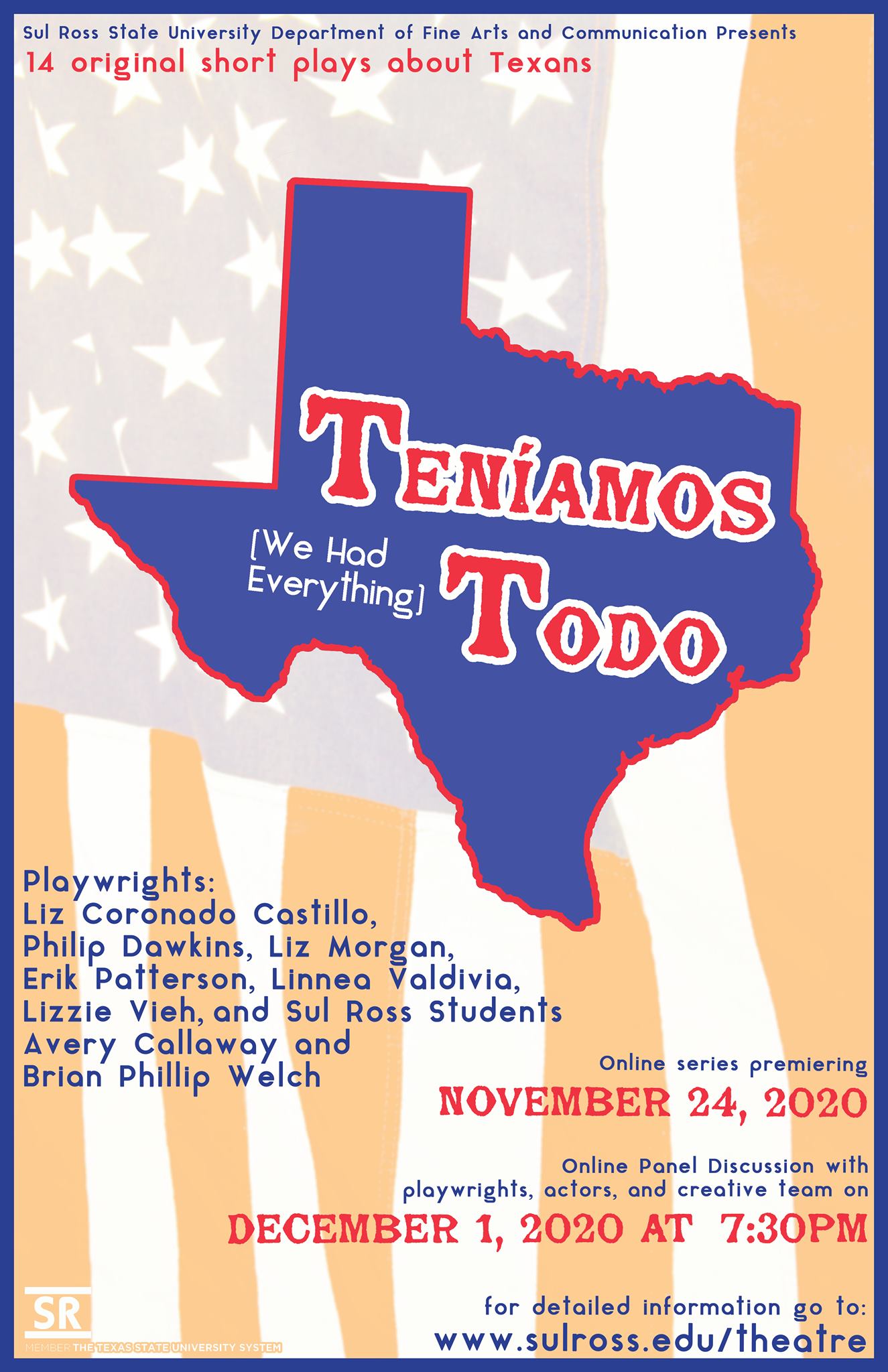 Teníamos Todo. (We Had Everything) opens the 2020/2021 season for the Sul Ross Theatre Program. A collaboration between professional playwrights and Sul Ross Theatre students, Teníamos Todo (We Had Everything), is an original, bilingual series of short scenes and monologues about Texans and the way they are coping with the "new normal" of life during a pandemic. Teníamos Todo (We Had Everything) will be released on streaming platforms beginning November 24.
The online series is based on in-person audio interviews SR Theatre students conducted with Texans from all walks of life. That interview material was forwarded to professional and student playwrights from all across the US, including former Sul Ross faculty Liz Coronado Castillo, Philip Dawkins, Liz Morgan, Erik Patterson, Linnea Valdivia, Lizzie Vieh, and Sul Ross students Avery Callaway and Brian Phillip Welch. The playwrights returned with original scenes and monologues in both Spanish and English, written to be filmed with Covid-19 safety measures in mind.
"What interests me about this project is being able to marry the varying experiences of Texans coping with this pandemic and the imaginations of a group of playwrights from all over the US," says new Assistant Professor of Theatre Eva Gil.  "Giving our theatre students an opportunity to originate a role in a world premiere is an incredible experience. The scripts range from touching to dark absurdity and will be a challenging assortment of styles for the students to work on."
"Since we can't safely produce live theatre right now – and we really miss doing shows and miss seeing our community at our shows – we needed a way to continue offering performance opportunities for theatre students. The Teníamos Todo (We Had Everything) project is a way to explore the feelings and thoughts that come from the chaos of the last nine months, a kind of immediate theatre that lets our students work through what they're feeling, too," says Associate Professor of Communication Bret Scott.
The short video pieces are directed by Assistant Professor of Communication and Theatre Marjie Scott, Assistant Professor of Theatre Eva Gil, and Associate Professor of Communication Bret Scott, with directing assistance from Sul Ross Theatre Students Avery Callaway, Emma Morales, and Cierra Noel. Teníamos Todo (We Had Everything.) will be released starting November 24. For more information, visit www.sulross.edu/theatre or follow the Sul Ross Theatre program on Facebook and Instagram.