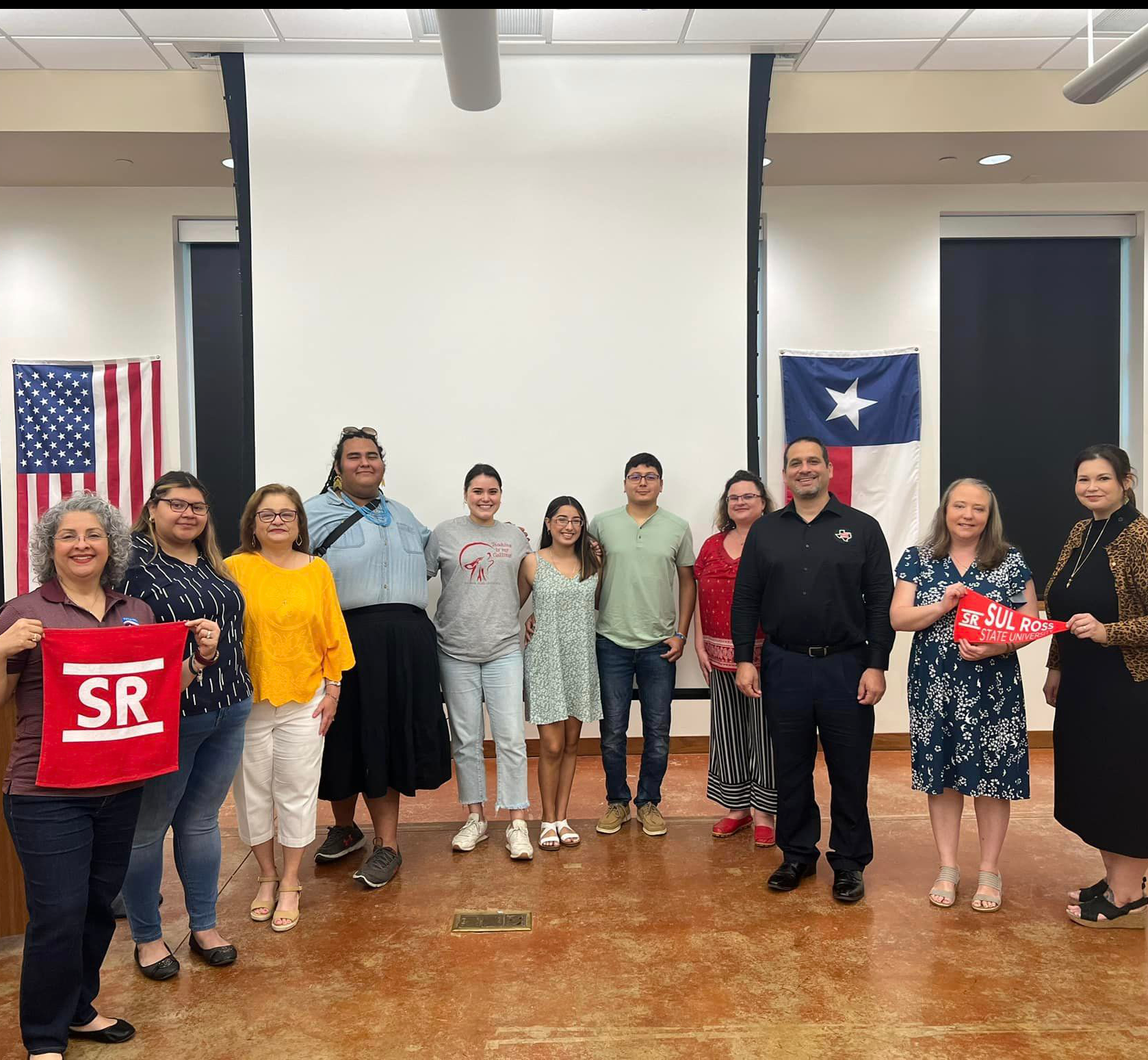 The newly formed Texas State Teachers Association-Aspiring Educators (TSTA-AE) student club at Sul Ross State University held "Kindness Matters" at El Progreso Library in Uvalde May 6.
TSTA-AE chapter president Darissa Cervantes and John David Perez led a subcommittee to plan the event that promoted how to teach empathy, kindness, manners and character to aspiring teachers, current educators and parents using reading material and other activities.
Experts in the field including TSTA Vice President Linda Estrada, Uvalde CISD educators Ms. Arizmendi and Ms. Guevara, and Sacred Heart School teacher Rebecca Ortiz shared their experience with the group. Samantha Segura, District 1 president, Andrea Rivera, Gisella Rodriguez, Kim Hernandez and Rosario Cordova worked with the Club's student leaders to develop a character education book list for all grade levels for educators and parents to use as a resource. The books may be checked out at El Progreso Library with special thanks to Tammie Sinclair for making them available.
The Kindness Matters book list includes:
Kindness Starts with You by Jacquelyn Stagg
Be Kind by Pat Zietlow Miller
HumanKind: Changing the World 0ne Small Act at a Time by Brad Aronson
The Value of Kindness: The Story of Elizabeth Fry by Spencer Johnson
I am Peace: A Book of Mindfulness by Susan Verde
Each Kindness by Jacqueline Woodson
Loving Kindness by Deborah Underwood
Random Acts of Kindness by the Editors of Conari Press
Kindness is My Superpower: A Children's Book about Empathy, Kindness and Compassion by Alicia Ortego
Kill with Kindness by Dell Shannon
Listening with My Heart: A Story of Kindness and Self-compassion by Gabi Garcia
Willie's Not the Hugging Kind by Joyce Durham Barrett
The Book of Hugs by Tim Harris
Darius the Great is not Okay by Adib Khorram
All Kids are Good Kids by TJ Klune
The Midnight Library: A Novel by Matt Haig
Confessions of a Former Bully by Trudy Ludwig
The Kindness of Strangers by Katrina Kittle
The Catcher in the Rye by J. D. Salinger
The Miraculous Journey of Edward Tulane by Kate Dicamillo
The Best Kind of People: A Novel by Zoe Whittall
The Kindness of Children by Vivian Gussin Paley
Happy reading! For more information about TSTA-AE, email Dr. Jennifer Miller-Ray at jennifer.miller@sulross.edu.