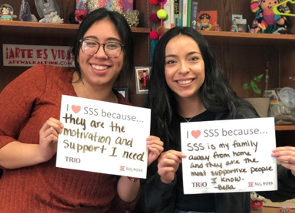 For Sul Ross State University students, Student Support Services (SSS) has become their "home away from home."
SSS participant and peer mentor, Andrea Rodriguez says, "SSS is home away from home.  Where you have people supporting you and rooting for you to graduate and do great things in life.  You get help in classes and great life advice, so when you're ready to go out into the world, you don't go blindly.  You meet new friends and are able to be yourself and have fun."
Using a student-centered approach, SSS provides academic advising, financial aid assistance, financial literacy, tutoring, graduate school preparation, as well as other services to eligible Sul Ross students.  The SSS program also offers workshops throughout the school year that furnishes students with academic and social opportunities.  SSS provides support to students that is focused on empowering them to succeed.
Aaron Herrera, SSS Retention Specialist and past SSS participant, is an example of the impact SSS can have on Sul Ross students.  "SSS was a home for me when I was a student and I have been fortunate enough to return and provide the exact same home to others in need," states Herrera.  "SSS was a saving grace for not only me but my family as well when we were all lost in the university system.  Being a first-generation student, I needed to find that one resource that I could trust and always rely on, that was SSS.  When my parents had worries for me while being away at college, SSS took care of that.  SSS strives to be that comfort for our students and to always be a place of trust."
SSS has helped over 145 students reach graduation in the last five years by helping them learn to adapt and succeed in their college career.  Also during the last five years, persistence and graduation rates for students in the SSS program at Sul Ross were on average 28% and 20% higher, respectively, than for all students at Sul Ross.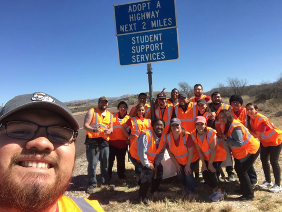 As SSS Director, Judith Loya puts it, "SSS is an amazing program.  I truly believe students do not get to know everything our program offers until they are a part of it.  We help our students with everything, from filling out their FAFSA to applying, to graduate school, to listening to personal problems.  Our goal is to assist our students with everything they need in order to succeed in college and graduate as well as have a positive environment in our offices where they can feel comfortable asking questions about anything."
SSS has been providing services to Sul Ross students since 2005, serving approximately 160 students each year.  Students must have some type of academic need and meet at least one of the following three requirements to be eligible for the program:  be a first-generation college student (neither parent/guardian has a bachelor's degree), be from a low-income household based on federal guidelines, or have a documented disability.  Students may apply to the SSS program at any time during their undergraduate career.
During Fall 2020, the SSS program at Sul Ross received a five-year grant renewal from the U.S. Department of Education for more than $1.3 million.
If you are interested in applying to the SSS program, call 432.837.8118, email sss@sulross.edu, or stop by Ferguson Hall 105.  More information on the SSS program and an application form are also available online at https://www.sulross.edu/section/311/student-support-services.