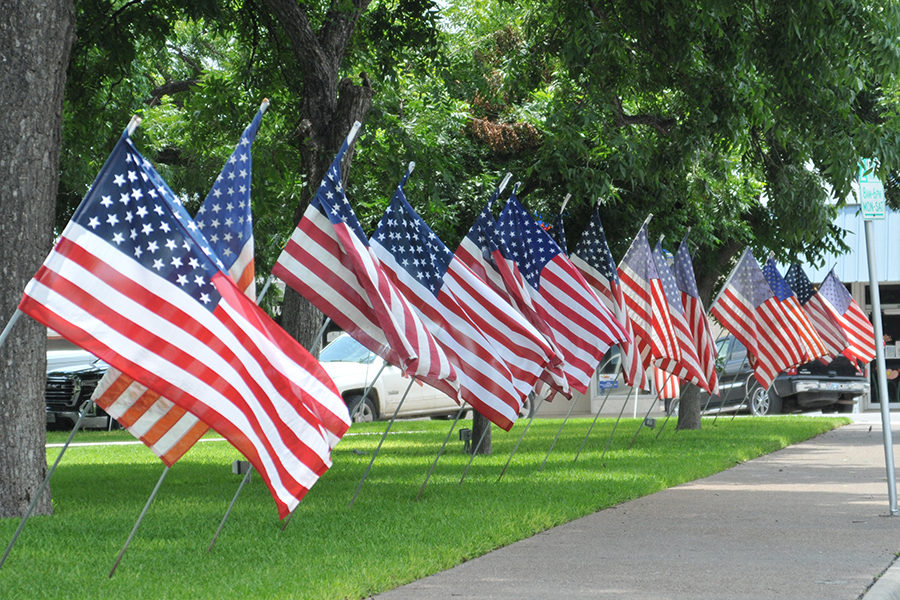 Join Sul Ross State Univ. Rio Grande College in celebrating every day heroes who served the United States of America honorably yet quietly and who do not seek recognition yet deserve it.
The RGC campuses applaud our student veterans for their service. Currently nearly 20 students are using their own or their parents' veteran benefits to earn degrees. We are proud to present some of their stories.
Del Rio native Christina Salazar enlisted in the Army while in high school because she did not want her parents to bear the financial burden for her to continue her education and viewed serving her country as her ticket to college.
Her parents found out she had enlisted when her recruiter needed their permission to take Christina to San Antonio for a test. Her dad supported her decision, but her mom was afraid she would go into combat. Nevertheless, they signed and after graduating high school, she soon set off for basic training in Ft. Jackson in South Carolina.
The recruit found the toughest things included not getting to eat when she wanted and not getting enough sleep. In addition to her job as a human resource specialist, she discovered that she was not prepared for the chores they were expected to do including mowing the grass and cleaning their own buildings. When she was stationed at Joint Base Lewis-McChord near Tacoma, Washington, Christina and her friends laughed about contract workers doing those chores on the Air Force Base.
During her service, Christina made two friends in basic and they all remain in touch. She said, "They aren't friends, they're family even though we live far from each other." Because it seems a long time ago technology-wise, she relied on a prepaid phone card to stay in touch with family. She really missed her mom's and grandma's Mexican food, so her dad, a Fed Ex employee, figured out a way they could pack tamales safely and ship them to her so she could have a taste of home.
Although she dreamed of attending the Univ. of Texas in Austin, the single mother of four said she is glad Sul Ross is here for her. She fell in love with psychology while a student at Southwest Texas Junior College and will graduate with a degree in psychology in spring 2022. She hopes to continue her education and eventually hold Licensed Professional Counselor certification. Christina enjoys Dr. Wesley Wynne's classes, particularly because he does not teach straight from the textbook, but rather has relatable experiences about what they are studying.
Miguel Chavez recalls his drill sergeants in basic training at Ft. Sill in Oklahoma telling him and the rest of the impressionable recruits that they controlled the weather, and sure enough, early the next morning they ran in rain, marveling about how they knew.
Following basic training, Miguel returned to Eagle Pass to recruit for two weeks, then a more mature young man went to Ft. Sam Houston for medic training and on to Ft. Drum in New York for his first duty station. After less than three months there, he deployed to Afghanistan. For a year, he served as a combat medic, treating injured soldiers as well as locals, but only those whose wounds were caused by the U.S. He returned to Ft. Drum as a regular medic and left the Army after five years.
He points out that life is simple in the Army, especially while deployed. With no worries about paying bills, cooking, or any of the other day-to-day tasks, the soldier can focus on the job. It also means becoming a part of a society that includes only those serving. Miguel credits Dr. Wesley Wynne with helping him change. He took his first SRSU class while RGC campuses were closed due to the pandemic. For the first time, he opened up about his service and found he could relate to his classmates, a connection he never thought possible.
Miguel will graduate with a degree psychology and plans to earn a master's and get certified as a Licensed Professional Counselor.
Rolando Arce was deployed in March of 2003 and was not told where they are going until they landed in Kuwait on their way to Iraq as part of the invasion.
While there, little infrastructure existed so troops lived rough, sleeping outside and eating MREs or local food. He stayed in touch with his family by writing letters or calling when the rare chance arose that he had access to a satellite phone. Rolando said he felt like he was in danger nearly every day, but said, "I was very lucky." He assisted with convoy escorts and raids and manned checkpoints where he had photos and details of Iraqi Army members to detain. He returned to Iraq in 2006 as part of the Texas Army National Guard to an improved living situation for soldiers. He had access to computer labs and telephones and could explore the country.
After an initial wave of homesickness during basic training at Ft. Jackson, Rolando enjoyed shooting weapons, rucking, climbing, rappelling, running in a pretty environment and meeting people from all over. He missed his family and the freedom to wake up when he wanted, but made the most of the camaraderie and formed what he calls "never-ending friendships" during his 12 years in active service.
He makes his home in Eagle Pass and plans to graduate in spring 2022 with a Bachelor of Business Administration degree. He chose Sul Ross because it is convenient for adults working with full time jobs and professors who understand you have a family. He took a class from Dr. Martin Urbina and said he appreciated the way he pushed us to open our minds and challenged us to pay attention to personalities. He also enjoyed the Russian history class that Dr. Jorge Hernandez taught.
Troy Dalton of Camp Wood followed in his mother's and grandfather's footsteps and enlisted in the Army just before his senior year in high school.
Soon after graduation, he set off for basic training in Ft. Jackson. Because he grew up with his mother in the Army, he knew more than most what to expect, but describes basic as "an intense learning experience going right out of high school."
He deployed to Camp Taji in Iraq for nine months. He used social media to stay in contact with family and friends and enjoyed meeting local people realizing how friendly they are. Troy served seven years.
The criminal justice major plans to graduate in fall 2022 and hopes to go into law enforcement as a state trooper or game warden. He said, "I like how Sul Ross clearly has an admiration for their veteran students. I have attended and applied to other schools and no others were as veteran-oriented as Sul Ross."
Most of those interviewed indicated they enlisted for practical reasons and are uncomfortable when thanked for their service. The reality remains that these veterans did not know where they might end up or what dangers they would face in service to their country yet each met the challenge and deserve our gratitude.