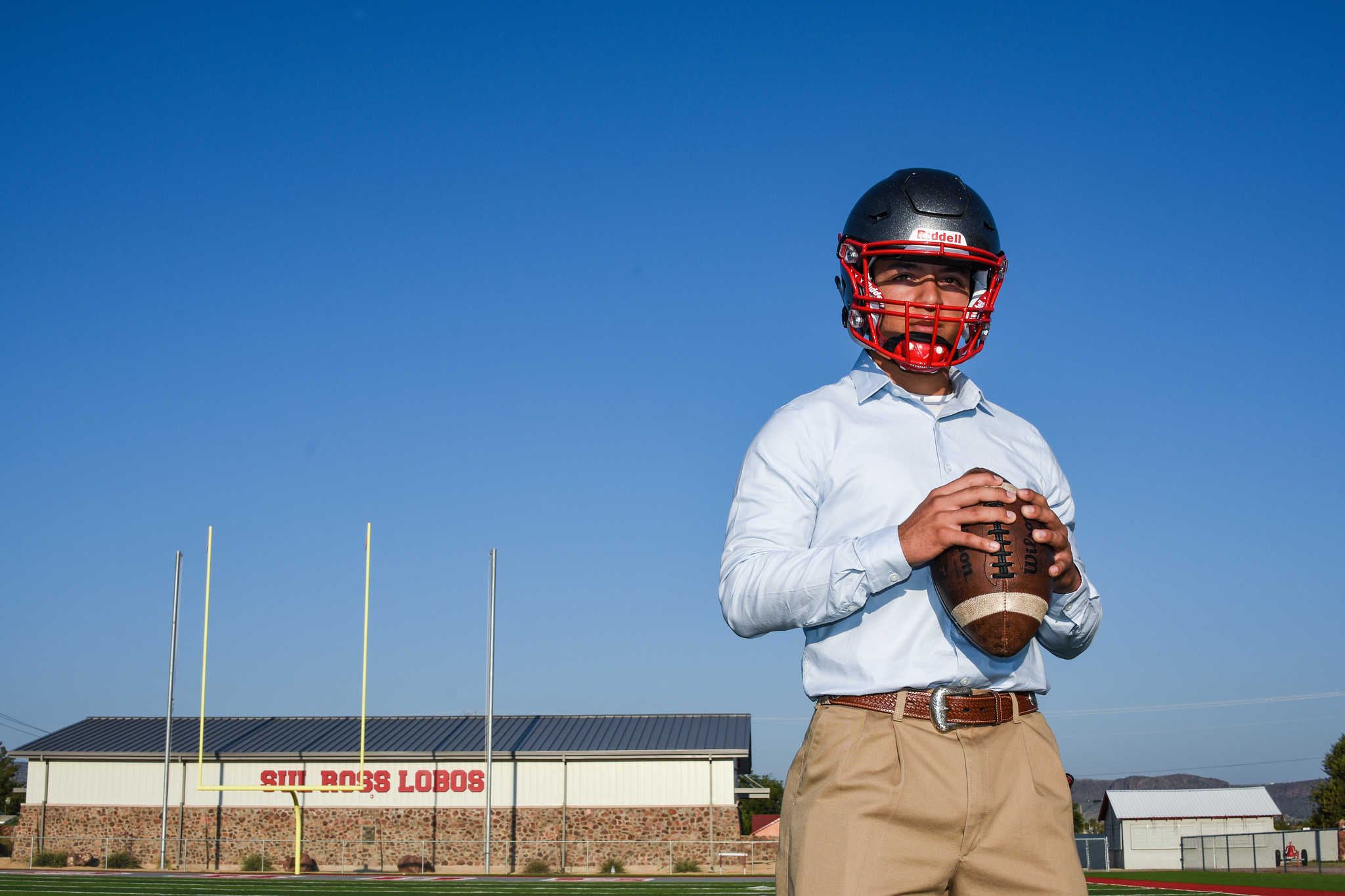 Posted by

Categories

Features

Date

August 2, 2018
• by Paul Slocumb •
From chasing flag football belts at the age of 4, through Pop Warner tackles, and especially as a two-way star on Van Horn's middle school and high school teams, Fabian Baeza played football hard, even when it hurt.
"I was always told that I should fight through the pain," he said.
He also played with little knowledge on the dangers of head injuries.
"Growing up, I never knew about concussions, how they felt, what the symptoms were, until my junior year in high school.  And even then, what I learned was from television.  As a youth football player, nobody ever really sat down with me and my teammates to explain the dangers of a concussion."
Now a kinesiology senior at Sul Ross State University, quarterback on the Lobo football team, and a 2018 McNair scholar, Baeza is using his McNair research to study the issue of concussion awareness in young athletes.
He was startled by his initial findings.
"One study estimated that every year 60,000 high school athletes experience a concussion, but only 50 percent of those concussions are reported to coaches or trainers," noted Baeza.  "This may be because the players don't know what the symptoms are, or maybe they don't want to tell a coach or trainer so they can keep playing."
To get a more detailed understanding of high school football players' knowledge and attitudes toward concussions, Baeza created a survey and sent out participation requests to 30 athletic directors at Permian Basin and West Texas high schools.  Only four—Big Lake, Fort Stockton, Wink, and Garden City—chose to take part.
The survey results did show some concussion knowledge and awareness among the participants.
For example, nearly 97 percent of student respondents knew that concussions could affect a person's long-term health, and nearly 90 percent said a player should be kept out of a game after a concussion.
However, the percentage of correct responses was quite low on a number of important questions.  Only 22 percent of respondents understood that brain scans show physical damage after a concussion, only 40 percent knew that it isn't okay to play while experiencing a headache, and only 43 percent knew that feeling "in a fog" is a symptom of a concussion.
"The results were similar to other studies of athletes' understanding of concussions," noted Baeza.  "The lack of knowledge shows us what areas we need to target with education courses so athletes, coaches, and even parents will have a better understanding of what a concussion is."
For Baeza, the need for concussion education will always be spurred by a stubborn memory from his days as a high school quarterback.
"In a game, I saw one of my top receivers get hit so hard that he stayed on the ground. The coaches went out on the field to check on him, and eventually he got up and went back to the sideline.  I asked him how he was feeling.  He told me he had a sharp pain in his head, and that he didn't remember what had happened.  I told him he shouldn't continue playing, but he refused to stay out.  He lied to our coach so he could play.  I told the coach the receiver wasn't fit to play, but the coach let him play anyway.  That memory of being uncertain what to do—of the sideline confusion—that's the reason I chose my research topic."
Baeza pointed out that athletic organizations throughout the country, including the University Interscholastic League (UIL), which helps guide public school policy, are already attempting to make sports safer with rule changes and better equipment; however, he believes the national conversation on concussions still remains focused on the NFL.
And in his view, that's a mistake.
"The dialogue needs to be at all levels, from Pop Warner on up," he said, adding that such dialogue will counter those who want to solve the problem of concussions by eliminating an entire sport.  "There has been talk of just getting rid of football, but I hope it doesn't happen because football can help kids learn valuable life lessons that they'll use for the rest of their lives."
Seventeen years of chasing and being chased on a football field have taught Baeza that tackling this difficult change will require a relentless pursuit.