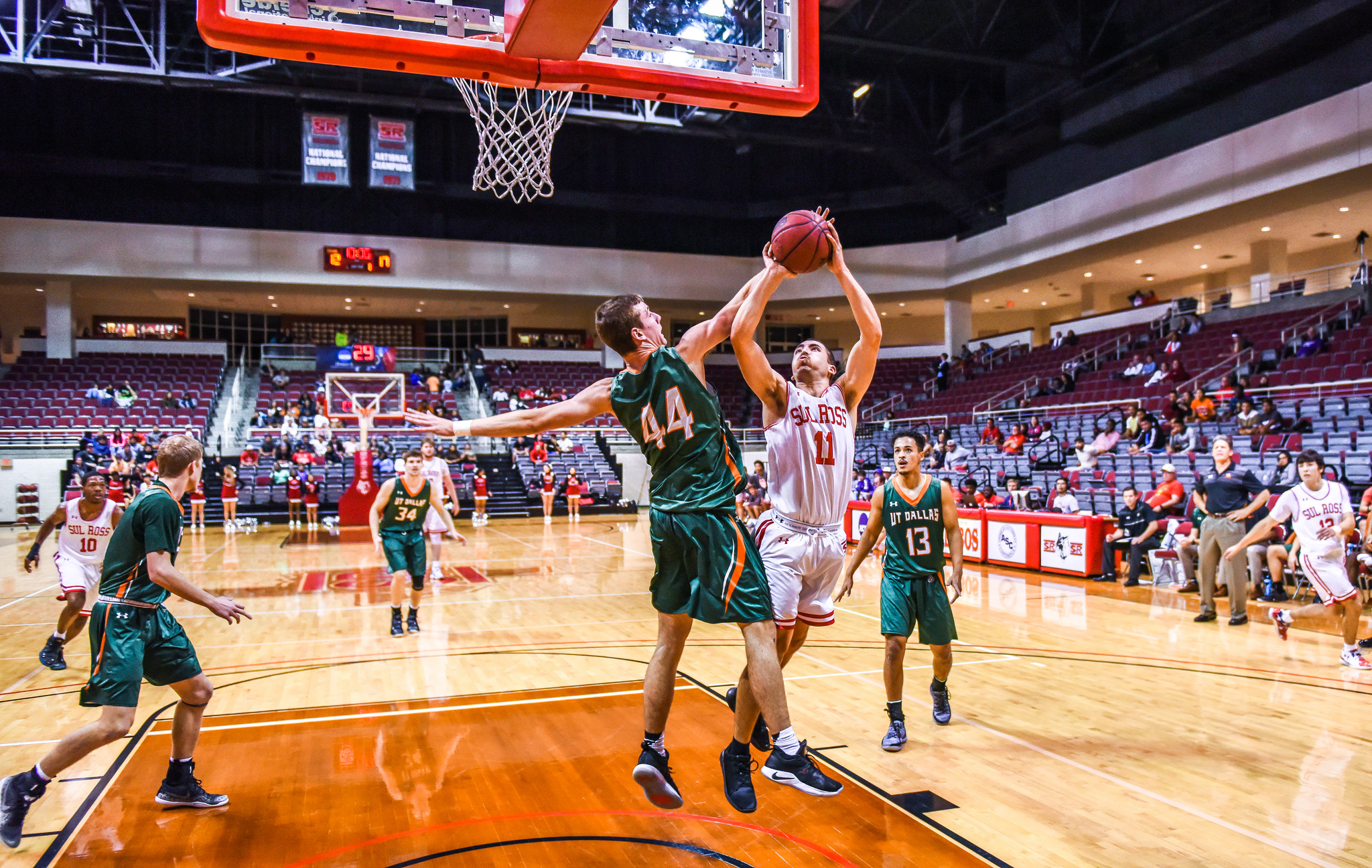 Posted by

Categories

Sports

Date

January 18, 2019
• by Travis Hendryx •
ABILENE, Texas- McMurry University's Trevin Ramirez hit a tie-breaking free throw in the final two seconds of regulation as the War Hawks prevailed in an 80-79 ASC victory over the Sul Ross State University Lobos Thursday night at Kimbrell Arena.
Cole Avery secured a season-best 21 points in the effort while B.J. Hollis collected 11 rebounds.
McMurry started the contest with a 4-0 run that stretched over the first two minutes of the opening half.
Hollis lit the board first for the Lobos on a long range jumper and pulled the visitors with within one at the 17:44 mark.
Two free throws by Jack Kirkpatrick gave Sully a brief 7-6 lead at 16:29 before the War Hawks' Zacc Carter banked from midrange on the ensuing possession and swung the favor back to the home squad.
A three-pointer by Conner Dawson at 15:15 put Sully back ahead by a 10-9 lead before Jezreel Griffin converted a three ball 21 seconds later extending the Lobo lead to four.
Griffin fired off another triple at 14:08 for a 16-9 Sul Ross advantage.
Two lead exchanges followed before Avery knocked down a transition three-pointer for a 21-17 Lobo lead.
Sully would go on to sport a pair of seven-point leads before the War Hawks narrowed their deficit to one off a Carter layup with 4:54 left before the half.
A jumper in the paint by McMurry's Mike Williams gave the War Hawks a quick one-point lead at 3:37 before Brayden Fry hit a long range bucket for a 34-32 lead for the visitors.
Fry then scored on a jump hook to extend Sully's lead to four.
Sul  Ross would hold one more four-point lead with under a minute remaining before the War Hawks' Khalil Butler drained a buzzer-beating three-pointer pulling McMurry's deficit to within one, trailing 42-41 at intermission.
Williams gave McMurry a one-point lead 18 seconds into the second half off a layup.
The Lobos quickly regained the lead and went on a 5-0 run capped by a three-pointer by Avery at 17:22.
Avery popped another triple at the 15:35 mark for a 57-48 Sul Ross advantage.
A three-pointer by McMurry's Colin Taylor tied the game at 60 at 11:21 before Jordan Jackson broke the knot with another three ball for a 63-60 War Hawk lead.
Jackson struck again near the midway mark on another triple extending the home team's lead to six.
Sul Ross tied the game at 68 off a layup by Tristen Licon with 7:36 remaining in the game.
Following a War Hawk tie-breaking bucket, Licon knotted the game again off another layup at 5:58.
One more tie would follow before the Lobos would hold a pair of three-point leads off of free throws by Fry and a three-pointer by Conner Dawson.
Trevin Ramirez then drained a three-pointer to tie the game at 79 at 1:50. Following a Lobo foul, Ramirez returned to the stripe with two seconds left and hit the tie-breaking and the eventual game-winning free throw for the 80-79 final score.
Fry finished the game with 11 points while Licon, Dawson and Griffin sported 10 points each.
Sully drops to 8-9 on the season and 3-5 in conference play. The War Hawks improve to 6-12 and 3-6.
The Lobos will face Hardin-Simmons University Saturday. Tip off is 3:00 p.m. from the Mabee Complex.