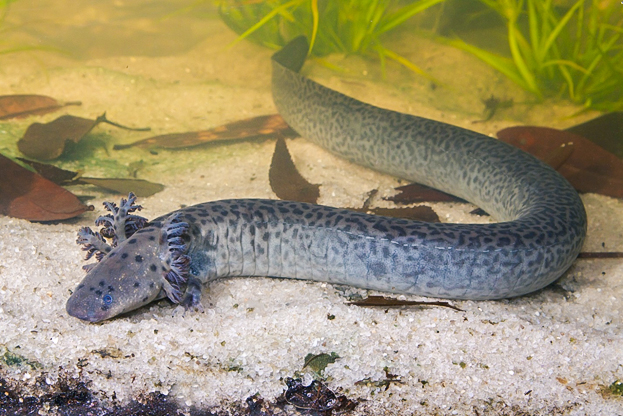 Posted by

Categories

News

Date

December 5, 2018
• by Paul Slocumb •
Sul Ross State University professors Dr. Sean P. Graham and Dr. Crystal Kelehear have co-authored a scientific article with Dr. Richard Kline (UT Rio Grande Valley) and Dr. David A. Steen (Georgia Sea Turtle Center) announcing the discovery of a large salamander species in the southeastern United States.  The article is available from PLOS ONE at http://journals.plos.org/plosone.
Confirming decades of rumors with their find, the group of researchers have named the new species a Reticulated Siren (Siren reticulata).  It's a species of eel-like salamander that can grow up to one meter in length and is noted for having two front limbs but no hind limbs.
This amphibian with leopard-like spots lives in the vulnerable biodiversity hotspot of southern Alabama and northwestern Florida and is the first new species of Siren to be described in 44 years.  It's also one of the largest North American vertebrates to be described in the last century.
"It was thrilling to be a part of this discovery team," said Graham.  "Not only did we get to meet such an interesting new species, but we got another reminder that the book of life still has a lot of pages for us to fill."
Providing more excitement are genetics analyses of the Reticluated Siren which indicate a high probability that other Sirenidae salamanders await discovery.