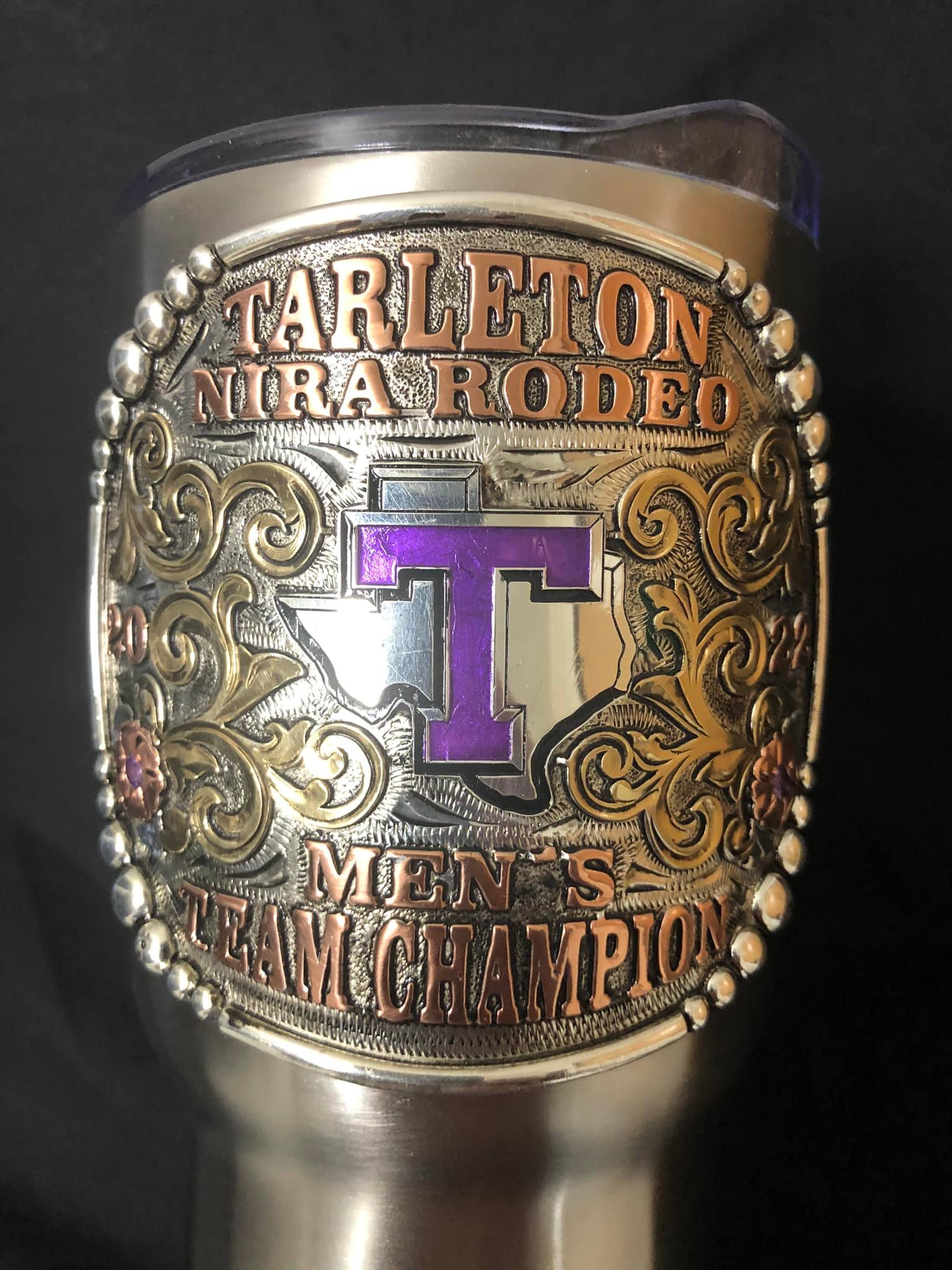 Alpine, TX – High expectations and high stakes in the high mountains of West Texas were laid out for the Sul Ross Rodeo Team this season. Now that the dust has settled after the last regular season event in Stephenville, TX, Coach Aragon and his team are resting up knowing that they hit some remarkable milestones.
It couldn't be said more poignantly than what Coach CJ Aragon commented at the end of his season recap. "Too many individual championships to list". That sounds about right for the Coach who breathed life back into one of the most storied programs in the country. That's how he wants to finish. That's how his team finished.
The season came to a close at the Tarleton State event. That's where they made their final statement with the CNFR in the back of their minds.
With 565.0 total points, the Men's team edged Clarendon College by 30 to take 1st place. The Women's team came in strong as well finishing 8th.
Brandon Lansford kicked off the leaderboard for Sul Ross tying for first in Saddle Bronc with 157.0 points. Tristen Hutchings capped off his dominating and stunning season by dominating Bull Riding with a 165.0 score. Kade Smith and Lane Cooper went 1st and 2nd in Team Roping Header with a 12.2 and 17.3 respectively.
There were several other notables from the weekend. In Steer Wrestling, Cooper Hurt's 12.9 was good enough to finish at 6th. Blake Bentley's work in Team Roping Heeler saw him tied for 2nd place with that 17.3 score. Hadley Kibbe posted a 5.0 in Breakaway Roping to head back to Alpine with a 4th place finish.
It's a strong finish for an already impressive season as the Lobos look to what comes next. But it's worth it to take a minute to put into context just what this season means for this historic program.
President Gallego stated, "This season has been remarkable to watch. From the amazing job that Coach CJ Aragon has done, the rodeo we held here in Alpine last year, to all the success this team has had. It's exciting to watch. We know how important this program is out here and it's great to see it competing at a high level again."
Season in Review:
Overall

This is the most CNFR qualifiers Sul Ross State University has had since 1983.
The Men's team earned 3 team championships this year out of the ten rodeos, while competing against 16 other teams.
The Men's team finished 3rd in the Southwest Region; The Women's 8th.
Tristen Hutchings

Defending National Champion Bull Rider
Won the Southwest region in the bull riding
Qualified for the CNFR in the Steer Wrestling
Reserve All-Around Champion in the Southwest Region
2nd overall finish for Men's All-Around in the SW Region
Lane Cooper

5x CNFR Qualifier
2022 Southwest Region Champion Header
Blake Bentley

2022 Southwest Region Champion Heeler
Kade Smith

3rd Place header in the Southwest Region
Mason Pitts*

4thPlace Heeler in the Southwest Region
*Mason may get to rope at the CNFR

Hadley Kibbe—

Did not qualify for the CNFR but she is the regions Walt Garrison Top Hand Award winner.  This is the highest award you can win outside of the arena in College Rodeo.

Just Missed Making the CNFR

Brandon Lansford—Won the last rodeo but just missed the CNFR in the Saddle Bronc Riding

4th overall finish in Saddle Bronc
Brandon is graduating in 2022 but plans on coming back for his Masters.
Zach Hamar—Missed the CNFR by 5 point in the steer wrestling.

Zach is graduating in 2022 and may come back for his Masters.
Timmi Hutchings-Just missed the CNFR in the Goat Tying.

She has completed her first year of her Masters but is out of eligibility.  We plan on bringing Timmi back as a Graduate Assistant Coach next year.
Hadley Kibbe taking home The Walt Garrison Top Hand Award may not be a surprise but as Coach Aragon states, "We are proud that our region selected Hadley for this prestigious honor!"
Hadley also had plenty to say about this season. "[It] was filled with so many wonderful moments. Our men's team did their job well and made their mark on the region. Both the men's and women's teams represented Sul Ross with pride and competed well, creating momentum leading into the 2022-2023 NIRA season."
"As this was my last season competing, it has been my upmost honor to serve and support my team in the classroom, in practice, and in competition," she continued. "The season may have ended with a CNFR Qualification for me, but I've never been prouder of the journey it took myself and my family on. Sul Ross Rodeo is a family. We cheer together, cry together, and pray together. We're here to build each other into the best versions of ourselves. That is family. And I'm beyond proud and honored to have been a part of it! SR Rodeo, coach Aragon and his family, the Rodeo Exes Alumni, and all of our team sponsors have been such a blessing to me. Thank you for everything."
It's one of the toughest regions in all of Collegiate Rodeo. Now that the regular season has concluded, the Sul Ross Rodeo Team has their eyes set on much, much bigger things heading into the CNFR.