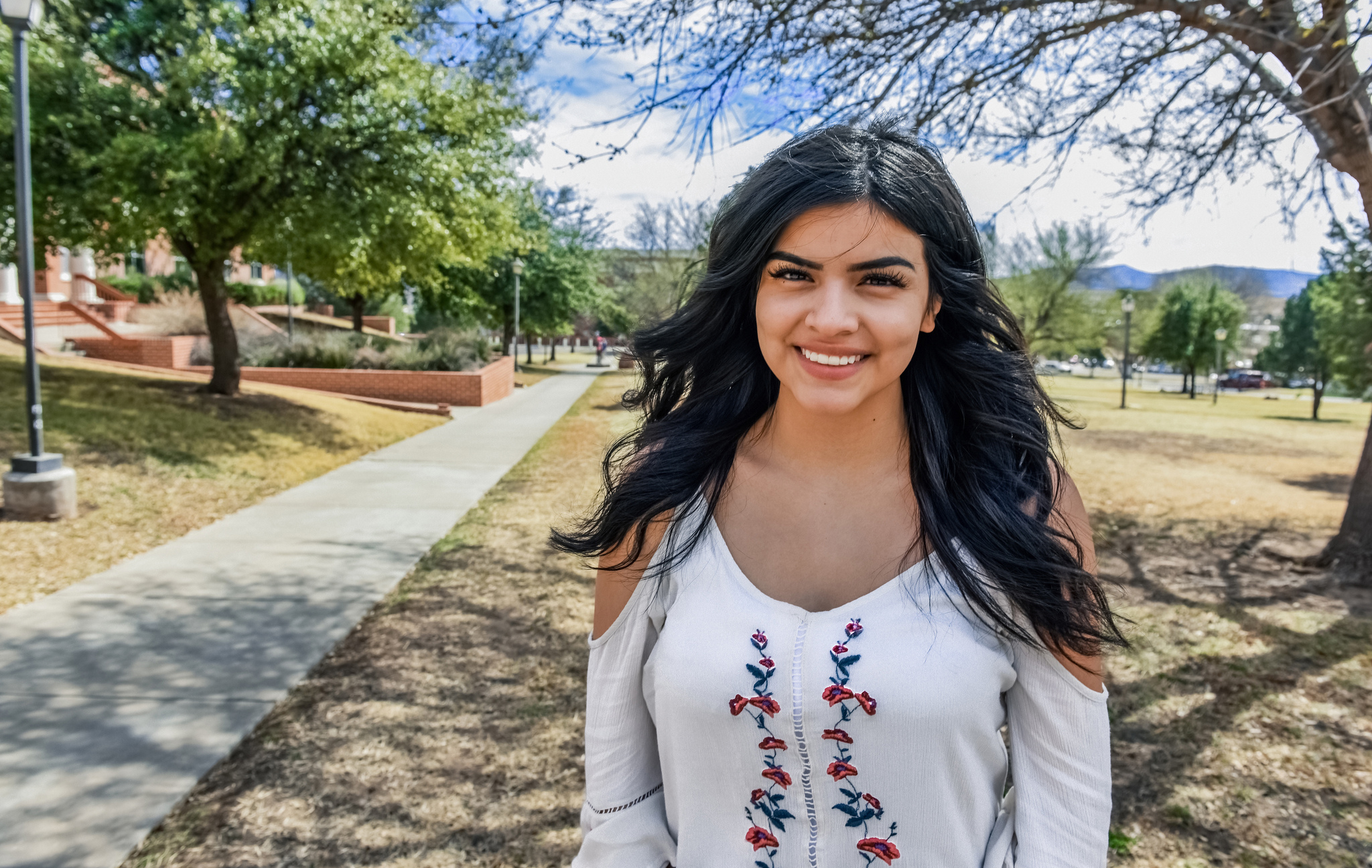 Posted by

Categories

News

Date

February 16, 2019
• by Paul Slocumb •
The Board of Directors of the Texas State University System Foundation has awarded Sul Ross State University student, Samantha Cardenas, the 2019 Edmund P. Kuempel Scholarship.  Cardenas, a junior biology major from Lubbock, will receive $5,000 to cover tuition and other education-related expenses.
"I cried," said Cardenas about the moment she was told of the award.  "This scholarship gives me the opportunity to go to college without any financial stress.  For the next two semesters, no money will come out of my own pocket."
TSUS established the Kuempel Scholarship to encourage academic excellence and to recognize student achievements.  Among other requirements, scholarship applicants must write an essay describing their classroom and career goals.
Cardenas, who works for Student Support Services on SRSU's Alpine campus, focused her essay on the personal challenges motivating her pursuit of a university degree.
"I initially came to Sul Ross for the wildlife management program and to play soccer; however, I was involved in a car accident over the 2017-2018 winter break.  After being hospitalized for three months and going through physical therapy for an entire year, I switched to a physical therapist undergraduate career plan.
"My path to becoming a physical therapist, and eventually developing my own physical therapy treatment program, will take me from Sul Ross to Texas Tech for their Doctorate of Physical Therapy Program.  Mentally and physically, I understand what a patient needing physical assistance is going through during the recovery process, and I want to help restore patients' health and motivate them about their future.
"I also plan to publish my own story about a drunk driver nearly taking my life—to enlighten people about the consequences of drinking and driving."
Other scholarships previously awarded to Cardenas include the South Plains GenTX Scholarship, the Community Foundation of West Texas Scholarship (four-year award), Sul Ross State University's Charles B. David Scholarship and President's Access Initiative Scholarship, and the TRIO Student Support Services Grant Scholarship (twice).
Cardenas plans to finish her Sul Ross bachelor's degree in spring 2020.