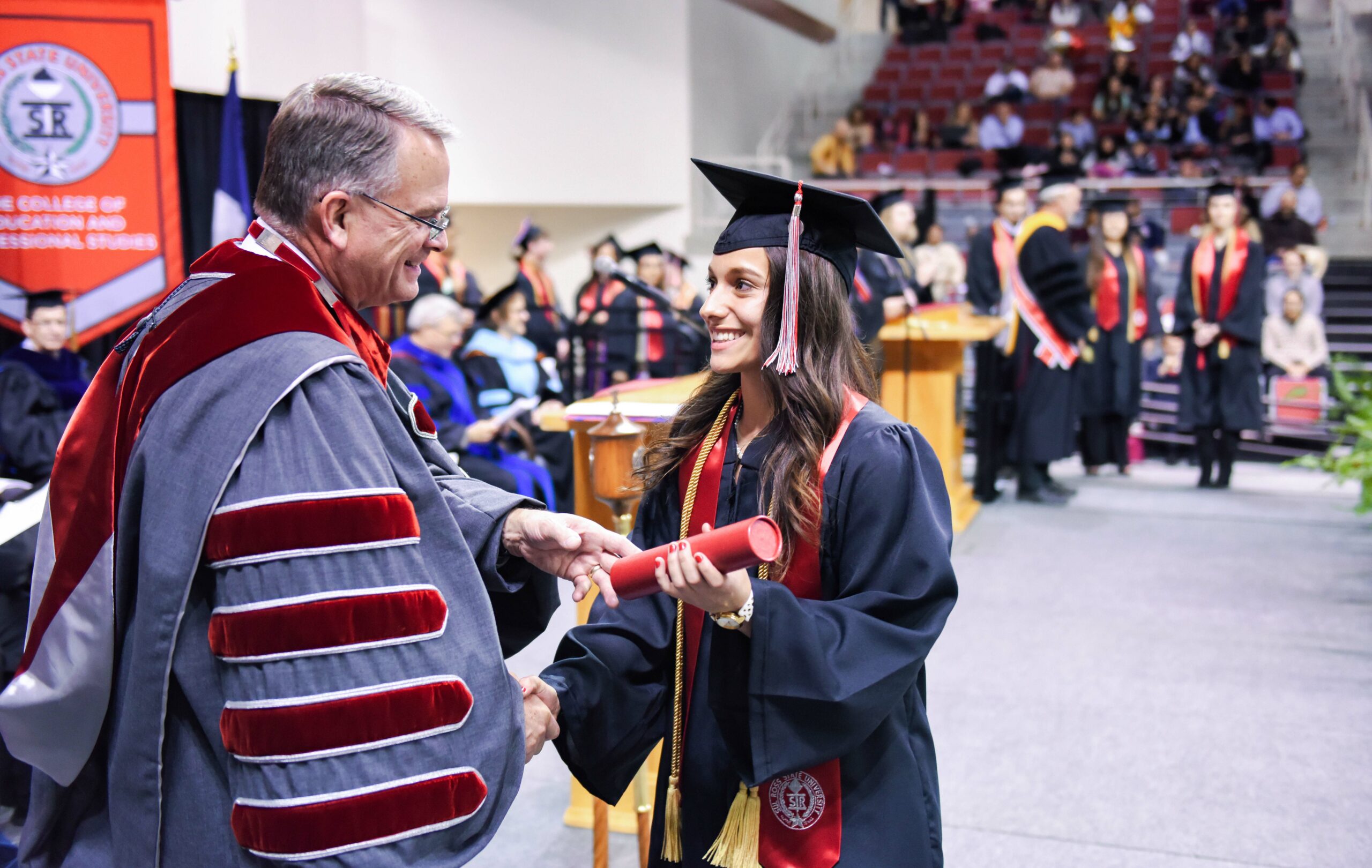 Posted by

Categories

News

Date

December 16, 2018
• by Paul Slocumb •
A total of 330 students, 225 from the Alpine campus and 105 from the Del Rio, Eagle Pass, and Uvalde campuses were candidates for degrees during 2018 Fall Commencement exercises Dec. 14-15 at Sul Ross State University.  Ceremonies took place Friday at the Pete P. Gallego Center in Alpine and Saturday at Uvalde High School's John Harrell Auditorium.
During his Friday evening Commencement address, Sul Ross President Dr. Bill Kibler urged the new grads to maintain balance in their postcollegiate lives.
"Each of you are about to begin what some refer to as your 'real life.'  But don't ever confuse your life and your work," he said.  "You cannot be first-rate at work, or life, if work is all you are.  And no man ever said on his deathbed, 'I wish I had spent more time at the office.'"
To maintain that healthy life and work harmony, Kibler recommended committing to the arduous endeavors of love and good works.
"Get a life in which you are generous.  Realize that life is glorious, and you have no business taking it for granted.  Care so deeply about its goodness that you want to spread it around," he advised.  "All of us want to do well, but if you don't work hard to do good, too, then doing well will never be enough."
Kibler concluded his address with the John Wesley quote he keeps framed in his office.
"Do all the good you can, by all the means you can, in all the ways you can, in all the places you can, at all the times you can, to all the people you can, for as long as you can."
Graduates, their degrees, and hometowns are listed below.  Degree codes are as follows: BA – Bachelor of Arts; BBA – Bachelor of Business Administration;  BFA – Bachelor of Fine Arts; BS – Bachelor of Science; MA – Master of Arts; MAg – Master of Agriculture; MBA – Master of Business Administration; MEd – Master of Education; MS – Master of Science; cum laude, 3.5-3.69 grade point average; magna cum laude, 3.7-3.89; summa cum laude, 3.9-4.0.
Brasilia, DF, Brazil: Gabriela Hernandez Mendonca, MBA, Business Administration
Monrovia, Liberia: Abraham Fofana Kamara, MS, Geology
Nigeria: Ademola Adefemi Akanni, MS, Geology
Uzuakoli, Abia State, Nigeria: Victor Chinomso Nnochiri, MS, Geology
Long Beach, CA: Amber Leanne Binford, BS, Criminal Justice
San Diego, CA: Tracey Renee Sheldon, BA, General Studies, cum laude
Woodlake, CA: Breeann Hope Sturges, MS, Range & Wildlife Management
Littleton, CO: Katherine J. Sauer, MS, Range & Wildlife Management
Naples, FL: Cathleen Cole Schrim, MEd, Counselor Education
Valdosta, GA: Charles Edward Barrett, MAg, Natural Resource Conservation
Warner Robins, GA: Dontavius Kenyell Smith, MS, Health & Human Performance
Barre, MA: Delane Thomas, BS, Criminal Justice, magna cum laude
Hatch, NM: Rhonda M. Spence, MEd, Educational Diagnostician
Santa Teresa, NM: Mathew A. Castor, Med, Educational Leadership
Tucumcari, NM: Keri L. Choat, MEd, Educational Leadership
Marietta, OK: Devlon Ray Ford, MS, Animal Science
Hanover, PA: Elizabeth A. Oaster, MS, Range & Wildlife Management
Abilene: Anne J. Harper, MEd, General Education; Julie Michelle Humecki, Med, General Education; Maria Gonzalez Munoz, MEd, General Education
Ackerly: Caleb Joe Thomasson, BS, Interdisciplinary Studies, cum laude
Alpine: Meagan Renee Borbon, MEd, Counselor Education; Deandra Reyna De La O, BBA, Business Administration; James William Downing, MEd, Counselor Education; David E. Ellis, BA, General Studies, magna cum laude; Spencer Ericsson, BS, Industrial Technology; Sonny Dwayne Galindo, BS, Computer Science; Scott A. Lacina, BS, Natural Resource Management; Luis F. Loya, BS, Kinesiology & Sports Science; Sara Beth Magner, MEd, Counselor Education; Adrian Jaime Maldonado, BS, Mathematics, magna cum laude; Benjamin P. Martinez, BS, Computer Science; Kimberly Nicole Melendez, BS, Interdisciplinary Studies; Kathleen Natera, MBA, Business Administration; Joan Catherine Oesper, MA, History; Jessica Amelia Ramirez, MS, Homeland Security, and MA Public Administration; Luciana A. Rios, BBA, Business Administration, magna cum laude; Sergio Roa, BS, Clinical Kinesiology; Danielle Aguilar Vega, MBA, Business Administration
Amarillo: Lindsey L. Griffin, BS, Geology
Andrews: Darby Comer, BS, Kinesiology & Sports Science; Jose Austin Luna, BS, Physical Education Teacher Certification
Anthony: Vince Richie Apodaca, BBA, Accounting, magna cum laude
Aspermont: Teddye Sue Myers, MEd, General Education
Austin: Allison Faith Hille, BS, Natural Resource Management; Jessica Fields Dunlap, MEd, Educational Diagnostician; Trenton Lester Ragland, MBA, Business Administration
Balmorhea: Anisha Gabrielle Beltran, BA, General Studies
Beeville: Margaret G. Downing, BS, Natural Resource Management, cum laude
Benbrook: Michael Joseph Hanson, MEd, General Education
Big Spring: Cadet Dean Bryant, MEd, Counselor Education
Blanco: Britton Joseph Wagner, BS, Kinesiology & Sports Science
Blanket: Charles Henry Musick, BS, Natural Resource Management
Brackettville: Catherine Marie Kepler, MEd, Reading Specialist
Camp Wood: Bambi Michelle Renfro, MEd, Reading Specialist; Ace Antonio Sanchez, BS, Natural Resource Management
Cedar Park: Tanner Bailey Dickerson, BBA, Business Administration
Cibolo: Darla-Nicole Acosta, BA, Psychology
Comanche: Jennifer Lynn Moncada, MEd, Reading Specialist; Stacy Lee Pierce, MEd, General Education
Corpus Christi: Marcus Blaine Rodriguez, MBA, Business Administration
Cotulla: Nicholas W. Ayers, MS, Criminal Justice, and MA, Public Administration; Anna Kathryn Holmes, BA, Music; Taylor Katharine Price, BS, Geology
Crane: Thomas Matthew King, MEd, Educational Leadership
Crosby: Cassie Dyanne Morrison, MAg, Range & Wildlife Management
Dallas: Kala Brock-Stevens, MBA, Business Administration; Mark Kim, BS, Criminal Justice, magna cum laude
DeBerry: Jarrod Evan Richter, BS, Geology, magna cum laude
Decatur: Michaela Gabrielle Cross, BS, Biology, cum laude
Del Rio: Crystal Ann Cardenas, MEd, Educational Diagnostician; Raul G. Hurtado III, MEd Counselor Education; Daisy M. Jones, MEd, General Education; Beatriz Lerma, MS, Health & Human Performance; Bella L. Martinez, BS, Criminal Justice, cum laude; Michael Isaac Reyes, BS, Clinical Kinesiology; Epifanio Segura III, MS, Health & Human Performance; Karina Anaiz Vela, MEd, Educational Diagnostician; Nicholas Velasquez, BA, General Studies
Dublin: Shawn W. Bradford, MEd, Educational Leadership; Ryan Louise Lewis, MEd, Educational Leadership
Eagle Pass: Sofia Alejandra Arroyo, MEd, Counselor Education; Anthony Garcia II, MS, Criminal Justice; Sylvia Villasenor, MEd, Counselor Education
Eden: Matthew Currie Odom, MEd, Educational Leadership
Edna: Leighton Dane Smith, MAg, Range & Wildlife Management
El Paso: Bonnie Marie Barragan, MS, Homeland Security; Cynthia Borrego-Hogan, MS, Health & Human Performance; Heike M. Brindley, MEd, Educational Leadership; Kenya Kyleem Cager, MEd, Educational Leadership; Jennifer Irene Carzoli, MS, Health & Human Performance; Erica Castaneda, MEd, Educational Leadership; Sarah Nicole Chacon, MEd, Counselor Education       ; Brittany Emily Ann Chamberlin, MS, Criminal Justice; Rudy Diaz, MEd, Educational Leadership; Cristina Duarte, MEd, Counselor Education; Damian N. Espinoza, BS, Criminal Justice; Alexa Jaclyn Gallardo, BS, Animal Science, magna cum laude; Marcos Galindo, MS, Criminal Justice; JP Garcia, MEd, Counselor Education; Maureen J. Garcia, MEd, Counselor Education; Jackie Elissa Gonzalez, BS, Biology; Xavier Carter Greenhoward, BBA, Business Administration; Claudia Herrera-Soto, MEd, Educational Leadership; Wesley Douglas Jordan, BA, General Studies; Karina A. Legarreta, BA, Psychology ; Guillermo Alejandro Loera, BS, Homeland Security; Christina Dolores Luna, MA, History; Andrea Ivonne Maciel, MEd, Educational Diagnostician; Joseph Michael Madrid, MS, Criminal Justice; Jeannette Estrella Moreno, MEd, Counselor Education; Claudia J. Nelson, MEd, Educational Leadership; Stephanie Parada, MS, Homeland Security; Valentin Alejandro Quintero, MEd, Educational Leadership; Jacquelyn M Rosas, MEd, Counselor Education; Victor Salas, MS, Criminal Justice; Rocio Guadalupe Stratton, MS, Criminal Justice, and MA, Public Administration; Joshua Anthony Vasquez, BS, Criminal Justice; Maria Luisa Wong, MEd, Counselor Education
Fabens: Carolina Gandara, MEd, Educational Leadership
Flower Mound: Connor Ryan Goodgion, MBA, Business Administration
Fort Stockton: Clark Oliver Lacy, BS, Computer Science
Fort Worth: Justin Paul Jircik, MS, Animal Science
Friendswood: Ryan M. Dupuis, BA, Political Science
Houston: Crystal Marie Easley, MEd, Counselor Education; Lauren Elizabeth Moreno, MS, Health & Human Performance; Marcos A. Rodriguez, BS, Mathematics
Howe: Michael David Segleski, Jr., MEd, Educational Leadership with Principal Certification
Imperial: Lauren Danielle Skolfield, MEd, Counselor Education
Iraan: Creed Rane Cade, MAg, Range & Wildlife Management
Katy: Lazaro Armando Gonzalez Mederos, BA, Psychology
Killeen: Ashley M. Ousley, BA, Psychology; La'Nasia Monae' Reed, BS, Criminal Justice
La Vernia: James Wade Patterson, BBA, Business Administration
Lamesa: Olivia R. Enriquez, BS, Geology, summa cum laude
Laredo: Tiffany Buford Vallejo, BS, Biology
Levelland: Mia N. Ochoa, BA, General Studies
Lindale: Casey Lea Willis, MS, Animal Science
Lubbock: Abbegail Alexandrea Alvarez, BA, Communication; Trenton Chance Peacock II, MBA, Business Administration
Magnolia: Ryan A. Gentry, MEd, Educational Leadership; Keith Kennedy, MS, Homeland Security
Marathon: Christopher Paul Herrera, MBA, Business Administration
Marfa: Marissa N. Garcia, BA, History, magna cum laude
Mathis: John L. Downey, MAg, Range & Wildlife Management; Marvin J. Zinsmeyer Jr., MS, Health & Human Performance
McDonald Observatory: Richard Brian Mrozinski, MS, Range & Wildlife Management
Mercedes: Robbie Carlo Garcia, BS, Kinesiology & Sports Science
Midland: Arzel Alvarado, BS, Biology; Dominic Carrillo, BS, Computer Science, cum laude; Andrea N. Delacruz, BS, Interdisciplinary Studies; Michael Angel Gutierrez, BS, Geology; Alexander G. Martinez, BS, Biology; Nancy L. Piette, MEd, Counselor Education; Carrie Elizabeth Willoughby, MEd, Educational Diagnostician
Mission: Arturo Anzaldua, MEd, Reading Specialist
Monahans: Naphtali L. Fletcher, MED, Educational Leadership
Naples: Jared Wade Tucker, MEd, Educational Leadership
Newcastle: Deborah Diane Wilkinson, MEd, General Education
Odessa: Jonathan Campos, BS, Kinesiology & Sports Science; Clayton Paul Garrison, MBA, Business Administration; Amanda Lain Holloway, MEd, Educational Diagnostician; Hannah Marie Luxton, BS, Animal Science; Jennifer Horton Natividad, MEd, Reading Specialist; Bryan K. Pearce, BA, History; Malyssa Anna Reed Cosper, BM, Instructional Music Teacher Certification, magna cum laude; Amanda Dawn Rowan, MEd, Counselor Education; Andrea Valero-Aguilar, MEd, Educational Diagnostician; Keeli Taran Vaughn, BBA, Business Administration
Paint Rock: William Blake Lightfoot, MEd, Educational Diagnostician
Pecos: James B. Barfield, MEd, Educational Leadership; Imelda Chavez, MBA, Business Administration
Presidio: Alexis V. Amancio, BA, Psychology; Fernanda Arroyo, MEd, Counselor Education; Candice S. Avila, BA, Psychology; Carlos I. Guzman, BS, Criminal Justice; Guadalupe Licon, BS, Criminal Justice, cum laude; Jocelyne I. Martinez, BS, Interdisciplinary Studies; Kathia V. Pando, BA, Psychology, cum laude; Dafne Elvira Rodriguez, BBA, Business Administration; Victoria Sanchez, BS, Interdisciplinary Studies
Rio Grande City: Andrew E. Lopez, BS, Kinesiology & Sports Science
Roscoe: Crystal Ann Althof, MEd, General Education
Rule: Breanna L. Marquis, MEd, General Education
San Angelo: Ashley Elizabeth Halfmann, MEd, Reading Specialist
San Antonio: Jacob Andrew Dishron, MBA, Business Administration; Katherine Anne Garwood, BS, Natural Resource Management; Rachel Hamilton, BS, Natural Resource Management; Alexander Hernandez, BS, Computer Science; Glenn Curtis Hill III, MEd, Educational Leadership; Israel Jose Pena, MS, Health & Human Performance; Michael E. Ramos, MEd, Educational Leadership; Margaret Mae Shirley, BS, Natural Resource Management, summa cum laude; Kenneth Wade Wallace, MEd, Educational Leadership
Shepherd: Dayna Michelle Whitmire, BS, Kinesiology & Sports Science, cum laude
Sierra Blanca: Brent Ames Lutz, MS, Homeland Security
Socorro: Carmen P. Miranda, MEd, Reading Specialist
Splendora: Keith Kennedy, MA, Public Administration
Sylvester: J. T. Elmore, MEd, General Education
Terlingua: Chelsea Leann Anderson, MBA, Business Administration
Tomball: Tarah Lea Smith, MS, Animal Science
Uvalde: Carolina Flores Garcia, BA, General Studies, Fredrick John Lindsey, BS, Computer Science, magna cum laude
Valentine: Gabriela Tarango, BBA, Business Administration, summa cum laude
Van Horn: Briana N. Sanchez, BA, English; Fabian Miguel Baeza, BS, Clinical Kinesiology, cum laude; Brandon Marc Carrillo, BS, Criminal Justice
Victoria: Jessica Kali Sizer, MS, Health & Human Performance
Weatherford: Carli Nicole Pisano, BS, Animal Science
Weslaco: Carlos Francisco Cuellar, MS, Health & Human Performance; Falisha A. Villanueva, MS, Health & Human Performance
Whitehouse: Jessica Nicole Clough, MS, Health & Human Performance
Whitesboro: Diana Shea Wood, MBA, Business Administration
Wichita Falls: Gil Grabow, MEd, General Education
Wimberley: Robert Ryan Wilkes, MEd, Educational Leadership