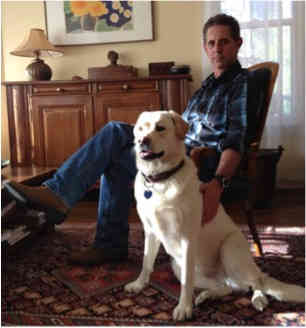 ALPINE–Sul Ross State University has appointed Sidney Balman, Jr., a Pulitzer-nominated war correspondent and awarded author, as its new Writer-in-Residence.
Balman will teach journalism, creative writing and communications courses along with helping promote Sul Ross as an arts hub in West Texas. In addition, he will serve as faculty sponsor to student publications, working with undergraduates and graduates via The Skyline newspaper and The Sage literary journal. And Balman will continue with his writing career, which includes journalism and fiction.
Balman, a fourth generation Texan who was raised in Dallas and has been based in Washington, DC, for 25 years, appeared at Front Street Books in Alpine two years ago on a national book tour for Seventh Flag, the first novel in a trilogy tracing the arc of radicalism in America through the global experiences of two families in the small West Texas town of Dell City. His stop in Alpine led to an initial invitation to serve as a visiting professor this year at Sul Ross, capped by President Pete Gallego's appointment as Writer-in-Residence.
"It feels like coming home, and I have Pete as well as my colleagues at Sul Ross to thank for that." Balman said. "It's a dream come true on so many levels after decades as an ink-stained wretch in the trenches of journalism and fiction. I can imagine no better place than the magical high desert of West Texas to teach such a unique group of students, to work with such dedicated, gifted colleagues, to build the university's reputation as a literary and arts hub, and to pursue my writing career."
Additionally, Balman says he hopes to organize a West Texas Writers' conference and award at Sul Ross in the spring of 2022.
Balman, a graduate of Vanderbilt University with an advanced degree from American University in Washington, DC, began his 20-year daily reporting career as a crime reporter for the Dallas Times Herald and ended it after a decade as the diplomatic and national security correspondent for United Press International, at the time one of the largest global news organizations. During his tenure at UPI, he covered wars in the Persian Gulf, Somalia, Bosnia-Herzegovina, and Kosovo, and traveled extensively with two American presidents and four secretaries of state on overseas diplomatic missions. He received a Pulitzer nomination for his coverage of the Balkan wars.
With the emergence of the web and the commoditizing of content, Balman moved into the business side of communications. In that role, he helped found a news syndicate focused on the interests of women and girls, served as communications chief for the largest consortium of U.S. international development organizations, led two successful progressive campaigning companies, and launched a new division at a large international development firm centered on violent radicalism and other security issues on behalf of governments and nonprofits.
Sensing a growing radicalism in America, Balman stepped back from his career to write Seventh Flag, which was published in 2019 and has received a number of awards. One novel has grown into a trilogy, with the second installment, Murmuration, due for release in August with a first stop on a national tour July 30 at Front Street Books in Alpine.