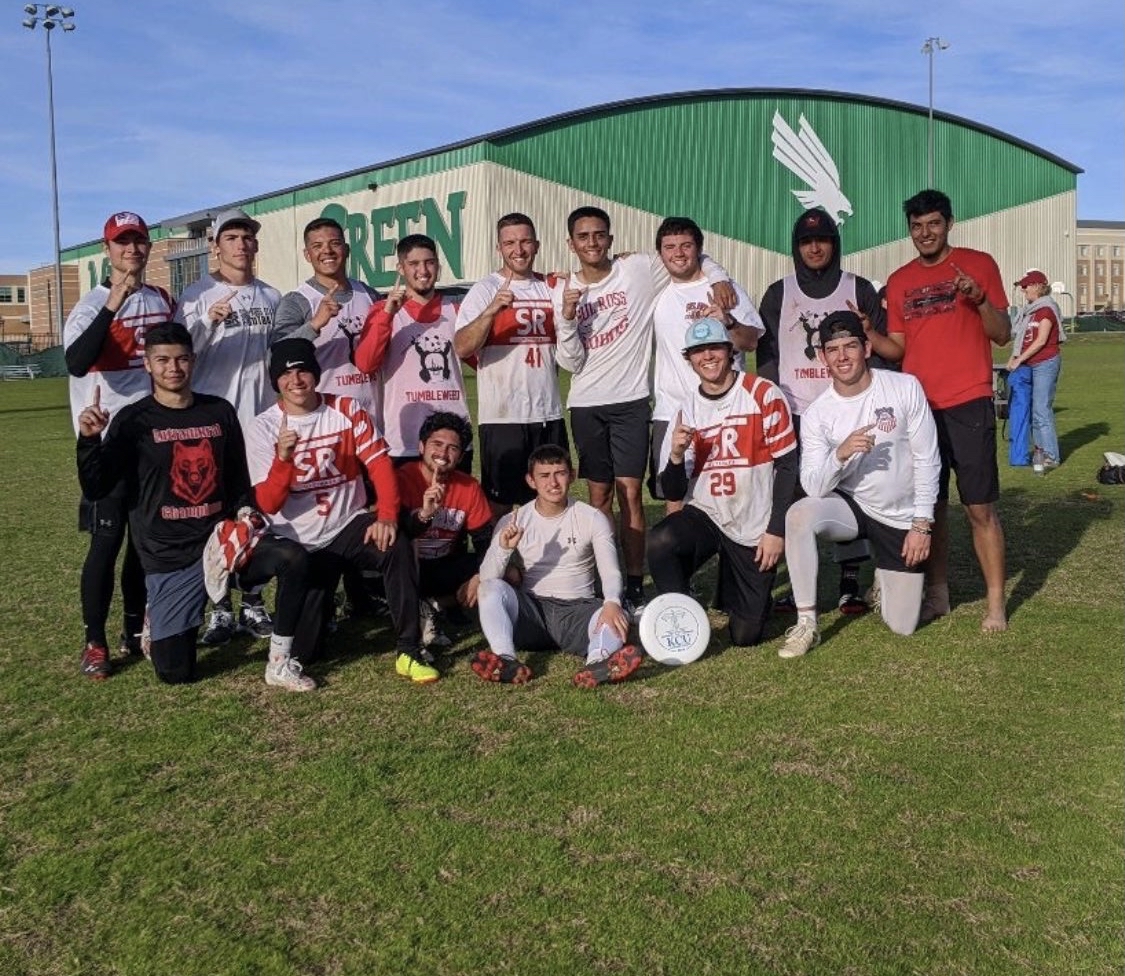 Alpine, TX – There are many things synonymous with Sul Ross State University. The mountains. Big Bend. The Rodeo Program. Kokernot Field. One would hardly think that Ultimate Frisbee would be one of those. But Andrew Deleon, Michael Solis, and their teammates are looking to change that. They are most certainly succeeding.
The 11-man team climbed out of a van in Austin, TX for a recent tournament. They're met by the buses of Division I and II schools such as A&M, Rice, TCU, and Colorado College. All with 20 plus man rosters that give out scholarships to compete. But this didn't faze them one bit. Mostly because they've been here before. Many times. And they're used to beating "better" competition. But the truth is becoming more and more apparent that the Lobos are actually the better competition.
Ultimate Frisbee is still by any measure still in its infancy at Sul Ross. But, according to Deleon, the success started from the beginning. The trailblazers who started Ultimate in Alpine knew they had the potential to create something special. Andrew joined the team as a freshman back in 2019 which was the first year Sul Ross cracked into the rankings.
Michael Solis got his start back in 2017 when Ultimate Frisbee was first started on the Alpine Campus. He took to the sport quickly and found a group that he connected with immediately. Now he's one of the longest tenured players on the team. When the previous coach stepped down, he took it upon himself to step into a leadership role. However, he would consider himself a player first. A de facto coach. There's a humility to this group that elevates their excellence. They see themselves as equals either during a match or working together at the same job.
This makes them very dangerous. They started knocking off bigger and bigger programs. Suddenly, a small-town college team was making a lot of noise. That momentum hasn't slowed down. Last year, they climbed at a much faster rate. They were ranked in the top 25, blew out their conference to win it, and was the #1 seed heading into the national tournament. Outsiders would say they came out of nowhere. They know exactly how they got there. However, their run was cut short in regionals by Colorado College. Leaving the team hungry to get back to the field.
So, they went right back to work.
What makes this group so special? Deleon attributes it to the closeness of those currently on the team and those who have moved on. Former teammates stay in touch with current players and offer mentorship. They are always in constant communication. Their team is comprised of players all over the state. Solis credits their mindset. "We always feel disrespected," he stated. "We feed off that." Satisfaction is had when they see their opponent's faces after a win. "They're in shock," said Deleon. Other teams are left wondering how a team from a town they couldn't point out on a map could be so dominating
They blend together in a harmony and their chemistry is electric both on and off the field. This is a tight-knit group. A family. They work together. Most of them have full time jobs and school. They live together. And, of course, they practice together. Monday through Friday at 6:30 AM. Both stated that the amount of time they put in to the craft and conditioning that makes them so formidable. It's on the practice field that they get to train against probably the most effective advantage against their opponents. The wind.
The wind in Alpine is nothing short of brutal some days. It's not uncommon to feel gusts over 50 miles per hour. Rolling dust clouds and dust devils kick up constantly. But Deleon and the team embrace it. They actually prefer it that way. Very few of the teams they face practice in conditions like this. Mastering throwing a disc in strong winds gives them a certain edge. They have pin-point accuracy if it's calm or if it's blowing hard. This is a unique group of young men who have developed their own brand of swagger that's impossible to duplicate and hard to ignore.
Back in Austin, the Lobos had their eyes on the opponent that knocked them out of last year's nationals. But they had plenty to get through before exacting their revenge. Unfortunately for those bigger Division I schools, they may have made the mistake of overlooking the smaller school from West Texas. "We blew everyone out," Deleon said. Each team was ranked higher but it didn't matter. They dominated. Eventually they faced Colorado and while they had early struggles their old friend the wind showed up and they capped off the tournament with a final blow out win.
They have their eyes set on the conference tournament coming up in April where they're expected to dominate. Again. The Lobos are sitting in the top 10 currently and continuing to put in the work on the practice field.
"This sport has changed [our] lives," Deleon commented. "They've become a family to me."
One thing is for sure. They're going to keep winning.