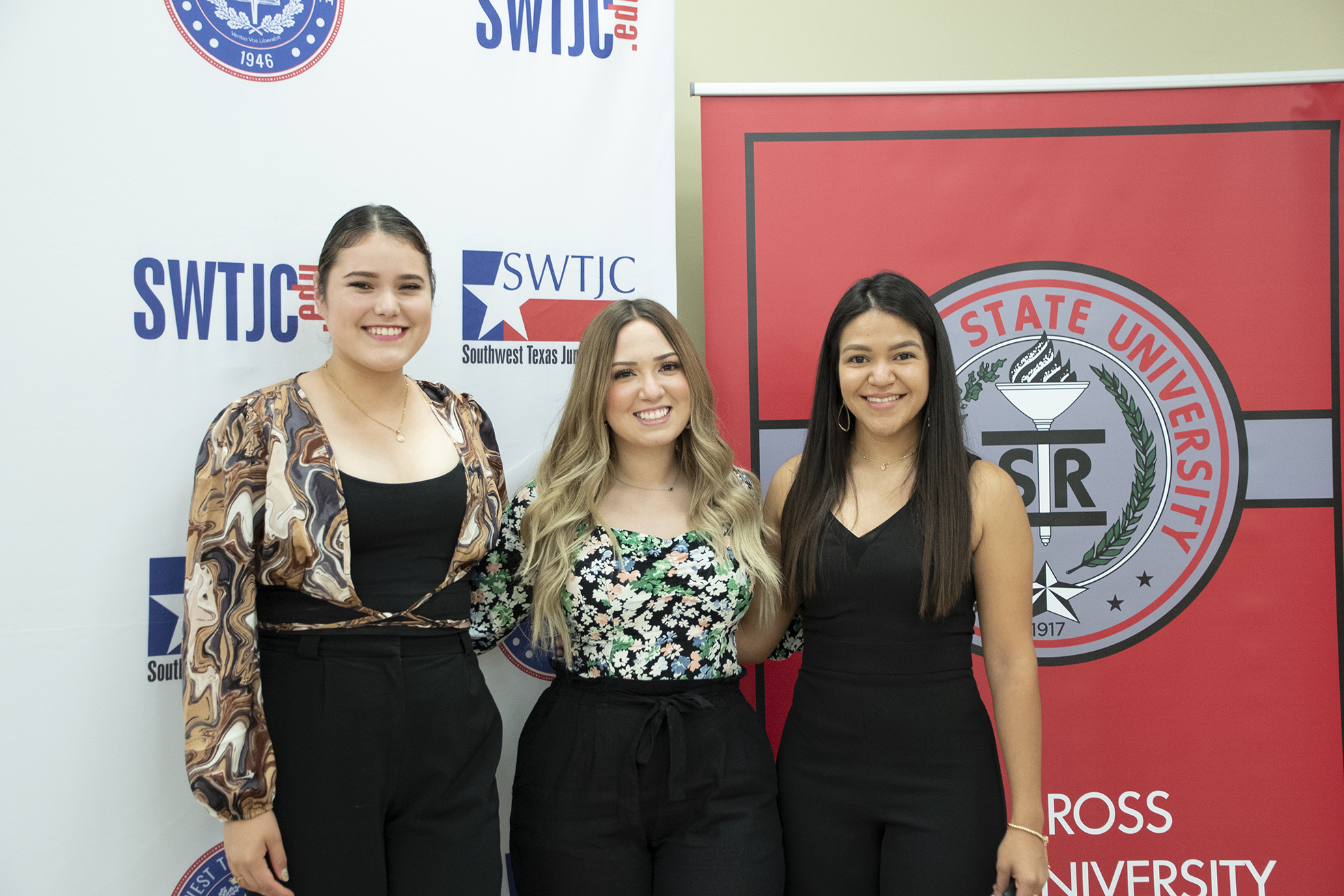 By Laura Nelson
Uvalde, Texas-Three Sul Ross State Univ. students, Darissa Cervantes, Evelyn Perez, and Ashley Quinones joined an elite group when they were named Noyce scholars, a joint grant administered between Southwest Texas Junior College and Sul Ross.
The National Science Foundation (NSF) selected the partnership between SWTJC and SRSU to receive the $1.3 million grant. It is the first NSF research project awarded to Sul Ross. Known as Noyce Scholars en la Frontera, the grant addresses the need for highly qualified science, technology, engineering, and mathematics (STEM) teachers to serve high need school districts along the Texas-Mexico border.
The three women selected come from diverse backgrounds, but they all share a love for STEM education, were positively impacted by instructors in their lives, and plan to share their enthusiasm for their subjects with their future students.
Darissa Cervantes moved over the border from Ciudad Acuña to Del Rio to attend school, and from a young age, knew her parents expected her to attend college. Placed in a bilingual classroom, she struggled to learn English even though in the 4th grade she made a perfect score on the English part of the state-mandated test. By 8th grade, she was placed in an advanced English class where classmates bullied her due to her poor spoken English. Her English teacher gave her classic novels to read and Darissa made English speaking friends which helped her gain confidence. Even so, she always looked forward to math class, a place where she felt comfortable, perhaps because she grew up with parents who tutored students in math at their home. She currently tutors SWTJC students and looks forward to making math fun for the students she will one day teach. Despite the bullying and her struggles with language, Darissa said she is proud of herself for not giving up.
In the third grade, Eagle Pass native Evelyn Perez became interested in science and math. In the seventh grade, she cried because she didn't understand fractions, but once she mastered that, she found her stride and even began tutoring her peers. In high school, the would-be first-generation college student knew nothing about how to get into college and asked an administrator how to go about it, but was dismissed. Instead, she enrolled in a technical school for a short time, but soon went to work full-time to pay off student debt. She met and married Jesus Perez, and after the couple had their first child, Evelyn told her husband she wanted to do something for herself. The biology major plans to teach science in secondary school and at some point, would also like to get certified to teach math. Evelyn said her family motivates her every day and she knows she is providing a great role model for her two daughters, Jimena and Jacqueline.
Ashley Quinones is an American citizen who grew up in Piedras Negras across the border from Eagle Pass. She learned to speak English from watching videos and from her cousins who lived in the U.S., and in turn, they learned Spanish from her. Her brother and sister both attended SWTJC and then transferred to Texas A&M Kingsville and Ashley thought she would follow the same path. She moved to Eagle Pass to attend SWTJC and planned to transfer to become a chemical engineer, then earn a master's so she could teach chemistry. She then decided she wanted to go straight into teaching and chose to stay in Eagle Pass and attend Sul Ross because she feels there is more opportunity here. In an interesting twist, she said she did not like math until she attended SWTJC and now loves calculus and plans to earn math teacher certification. She also is a tutor at SWTJC and loves helping others and watching them succeed.
Ashley, Evelyn, and Darissa will receive scholarships for up to $48,000 over a two year period and will also participate in professional development activities and provide support for STEM Clubs in public schools to encourage students to consider becoming  STEM teachers. Upon graduation, SRSU-SWTJC Noyce scholars commit to teaching for at least two years in high-need schools.
Each of these accomplished scholars has overcome many barriers by persisting in their personal and academic endeavors and exemplify the best of Sul Ross.
Pictured from left to right are Darissa Cervantes, Ashley Quinones, and Evelyn Perez.