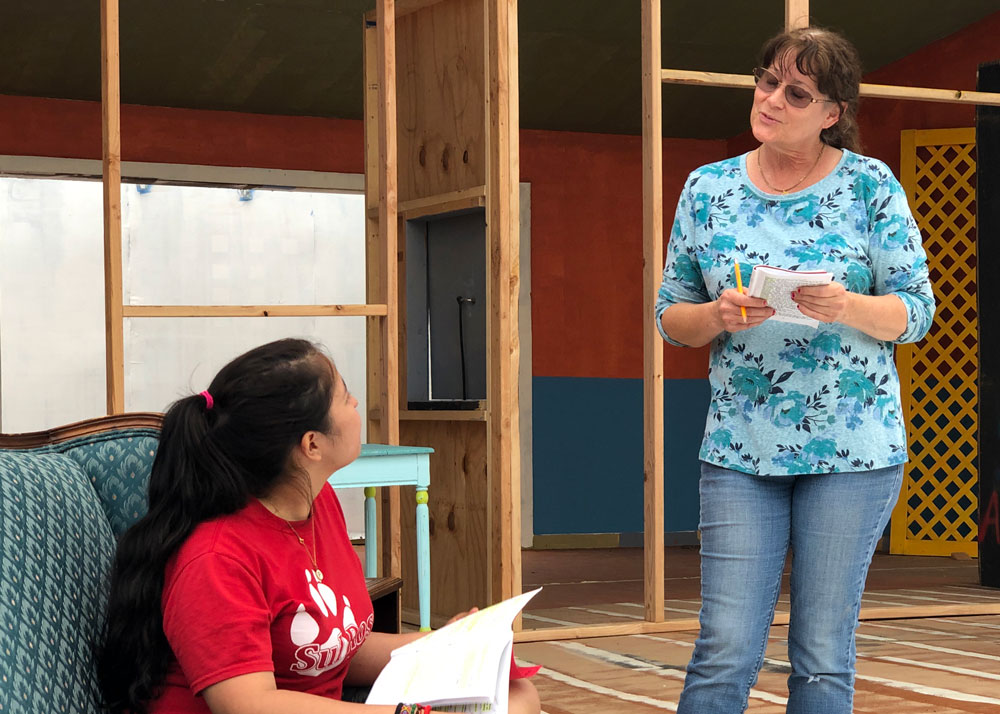 Posted by

Categories

News

Date

June 5, 2019
Alondra Flores, left, and Joanna Barnett rehearse for the upcoming production of Our Lady of the Tortilla.-Courtesy photo
• Courtesy of Theatre of the Big Bend •
Theatre of the Big Bend kicks off its 54th season on June 21 with Our Lady of the Tortilla, a heartwarming comedy written by Cuban-American playwright Luis Santeiro, a play that follows the volatile Cruz family.
Nelson, the youngest son, enters the house in a panic to hide the more obvious religious relics from the sight of his "gringo" girlfriend, who is visiting for the weekend. Nelson's mother, Dahlia, is obsessed with retrieving her husband from his new girlfriend while Eddie, her elder son, shows up in a van with his failed life and pregnant girlfriend. But the "real" pandemonium is caused by sweet, long-suffering Dolores, Dahlia's old maid sister, when she sees the face of the Holy Virgin in a tortilla. This miracle brings hordes of believers and reporters to camp out on the Cruz's lawn to await further miracles. As the family struggles with beliefs and conflicts, old and new, the endurance of family love is revealed to be the real miracle.
Kaylan Brett of the El Paso Sun Times said, "Tortilla manages to take the complicated themes of family, faith and the "American Dream," spice it with some slapstick, and perform a comedy with enough conflict to keep it fresh and enough heart to keep it hopeful."
Originally produced by INTAR Hispanic American Arts Center in New York City in 1987, Our Lady of the Tortilla is presented by special arrangement with Dramatists Play Service, Inc., New York.
The musical comedy Nunsense, written by Dan Goggin, opens July 12. Nunsense tells the story of the five surviving nuns of the Little Sisters of Hoboken who discover that their cook, Sister Julia, Child of God, accidentally killed the other fifty-two members of the convent with her tainted food. With the deceased nuns on ice in the deep freeze, the five singing nuns stage a variety show in the Mount Saint Helen's School auditorium to raise money for the burials.
Nunsense is the second longest-running show in off-Broadway history (second only to Fantasticks) and has been produced all over the world in over 26 languages. "I think this musical has been successful for so long for two reasons," says director Bret Scott: "First, the music's great; and second, everybody loves funny nuns."
Tickets for both shows are on sale now in the Fine Arts Building, room 106, or online at www.sulross.edu/theatre. Ticket prices for Tortilla are $10 for general admission, $8 for students and seniors. Ticket prices for Nunsense are $12 for general admission, $10 for students and seniors. Sul Ross students, faculty, and staff get in free with valid ID.
Our Lady of the Tortilla opens June 21 at the Kokernot Outdoor Theatre and runs Fridays, Saturdays, and Sundays at 8:15 pm through July 7.
Our Lady of the Tortilla was written by Luis Santeiro and is directed by Dona Roman with scenic design by Carolyn Barrientes. Technical direction and lighting design is by Ross Fleming and costume design is by Mayra Torres and Dona Roman. The cast includes David Altamirano Garcia, David DeLaO, Joanna Barnett, Alondra Flores, Jessica Westfall, April Crowder, and Avery Callaway.
 Nunsense opens July 12 at the Kokernot Outdoor Theatre and runs Fridays, Saturdays, and Sundays at 8:15 pm through August 4.
The book, music, and lyrics are by Dan Goggin and is directed by Bret Scott. Technical direction, scenic, and lighting design is by Ross Fleming with costume design by Mayra Torres and Dona Roman and choreography by Marjie Scott. The cast includes Cierra Noel, Sedia Woods, Aliyah Sabour, Olivia Pertuso, and Alyssa Longoria.
For more information, call the Fine Arts Office at 432.837.8218 or email finearts@sulross.edu.
###