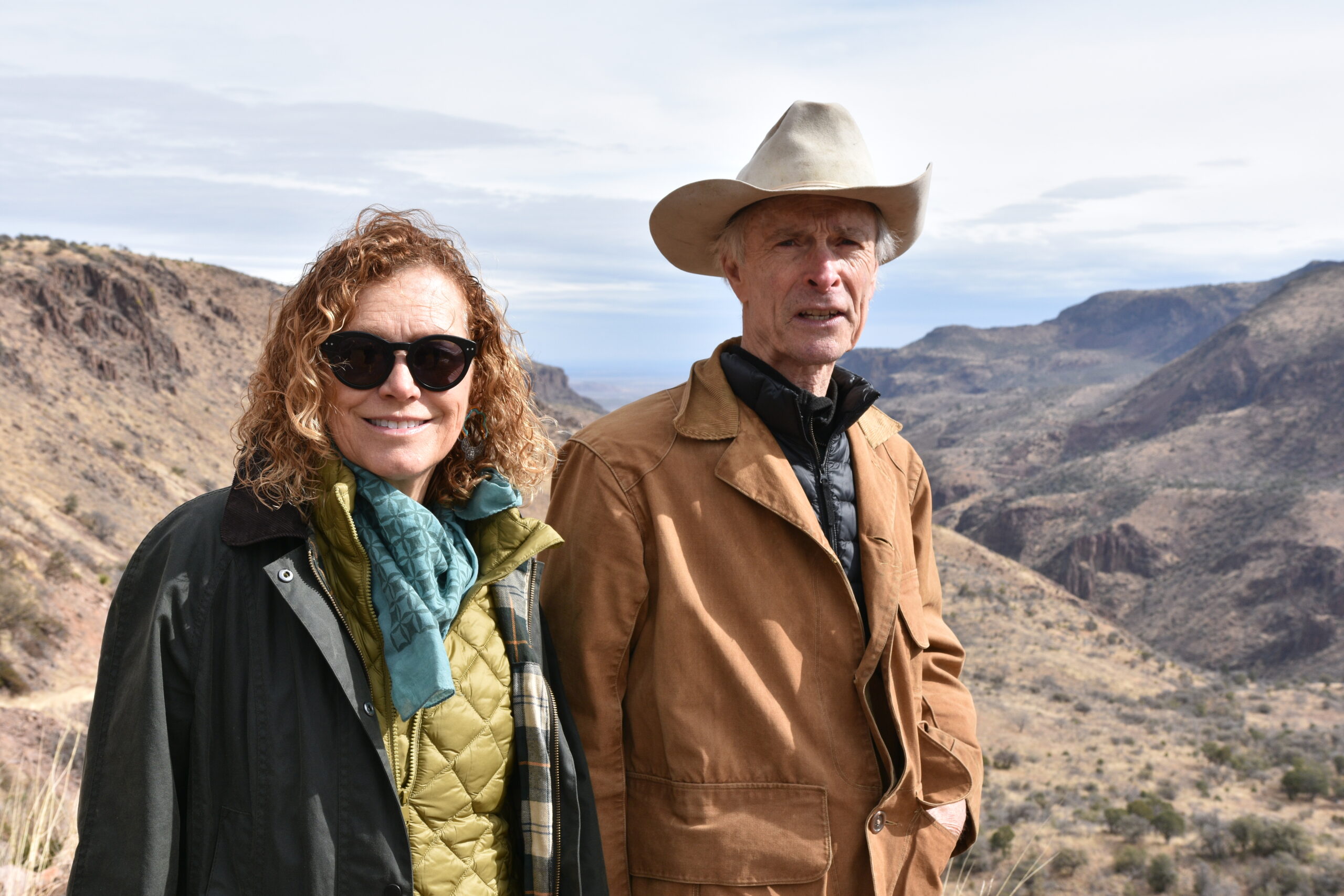 By Shawna Graves | Borderlands Research Institute
Carl Ryan fell long and hard for the Davis Mountains when he was just 10 years old.
Decades later, that part of West Texas remains close to his heart. After reflecting on all the time his family has spent immersed in the best the region has to offer, he and wife Suzi Davidoff decided to honor those connections by giving back to Sul Ross State University—the place that ties it all together.
Carl was only 10 when his grandfather, Robert H. Kelley, sent him to the Prude Ranch Summer Camp for Boys and Girls located in the mountains outside of Fort Davis.  It has a long history of inviting the public to learn the cowboy trades firsthand.
For Carl, the experience formed a core memory, and he returned every summer throughout his secondary education, advancing to camp counselor and leading horseback expeditions.
The cowboy lifestyle and the epic landscapes of West Texas enchanted him.
As the question of a college education loomed near, Carl could not imagine going anywhere other than to Sul Ross State College (renamed Sul Ross State University in 1969), located in Alpine, amidst the mountains he so loved.
So in 1964, at 17 years old, Carl stepped off the train in Alpine to begin his college career.
He settled into campus life and bonded with dorm roommate, Richard G. Duncan, a member of the famous Sul Ross Rodeo Club.
Richard longed to join the roster of names that got their start in the little arena at Sul Ross.
Tragically, he would never get the chance.  Richard's dreams were cut short when he and Carl were in a vehicle accident.  For Richard, it was fatal.  Somehow, Carl walked away.  It was a defining moment—one that imbued a profound sense of meaning in everything Carl would do from that day on.
Carl found solace working as a hired hand for the Prude Ranch in the Davis Mountains.
Every weekend during college, he caught a ride from Alpine to Fort Davis with John G. Prude, a professor at Sul Ross and also owner of Prude Ranch.  Carl cowboyed, moving livestock from pasture to pasture.  He experienced incredible solitude and humility inspired by the unfathomable beauty of nature all around.
It was a healing experience.
In due time, he graduated with a Bachelor of Science in History and a minor in Government.
"The community I met here opened so many doors for me," Carl said of his college years.
Unsure of what to do next, the young graduate fell back on the family trade.  He enrolled in law school at the University of Houston to become a third-generation lawyer in the Ryan line.
After passing the bar, he—again—couldn't imagine living anywhere but in the western part of the state.  So, when he was offered a job in the trust department of El Paso National Bank, he jumped at the chance.
In 1972, Carl had the opportunity to buy some land adjacent to the Nations Ranch, where he used to roam as a young college student. He bought it and began considering his own private getaway in the Davis Mountains.
In the early 1980s, Carl met Suzi Davidoff, an artist and his future wife, and hired her to design an adobe home in Madera Canyon and another one for Jerry Duncan. Jerry was Richard's father, and he and Carl became very close after Richard died.
In total, Suzi and Carl were able to piece together 1,600 acres and place all of it under a conservation easement, forever protecting the land they love.
Carl has helped others in the surrounding mountains do the same, and is proud that an extended stretch of Madera Creek watershed is now covered under similar protections.
"The conservation easement is nonpolitical," Carl observed.
With a conservation easement on their land, Carl and Suzi hope to help prevent land fragmentation from happening.
"Leave it like it is now—keep the present uses and appearances so future generations can look out and see the same landscapes that you see now," he implored.
A longtime volunteer in West Texas, Carl has maintained active roles on boards including the Nature Conservancy and the Judd Foundation.
At his alma mater, Carl is an active board member of the Borderlands Research Foundation, the charitable arm of Borderlands Research Institute, which focuses on wildlife and conservation research.
"We share the same conservation goals.  It's important to be able to rely on someone who can give us information about the challenges we face.  The Borderlands Research Institute is important to Trans-Pecos landowners and to all the people who will inherit the Trans-Pecos," Carl said.
In honor of his 50-year anniversary of graduating from Sul Ross, Suzi and Carl pledged $50,000 to the Borderlands Research Institute. The gift represents their faith that Sul Ross State University is in a position to do great things for the West Texas region.
"We are so appreciative of Carl's and Suzi's support to Borderlands Research Institute and Sul Ross State University," said Dr. Louis A. Harveson, who is the Dan Allen Hughes, Jr., Endowed Director of Borderlands Research Institute. "They have inspired us all with their commitment to conserving the land they love, and this major gift will help ensure that BRI's focus on wildlife and conservation research will remain strong in the years and decades to come."