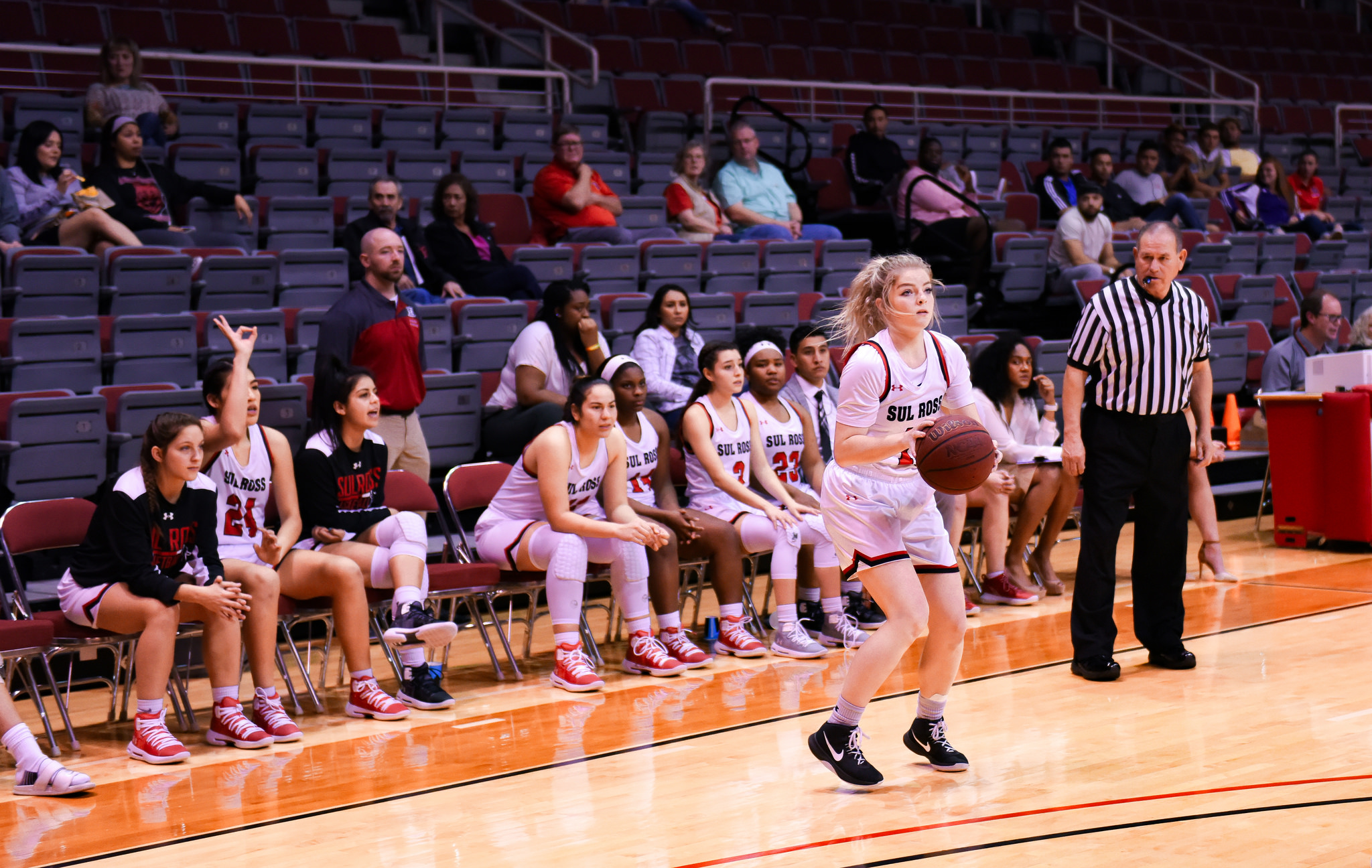 Posted by

Categories

Sports

Date

December 7, 2018
• by Travis Hendryx •
LONGVIEW, Texas- In Thursday night ASC action from Solheim Arena, Sul Ross Women's Basketball defeated LeTourneau University in a 66-52 decision.
Freshman forward Jocelyne Roque supplied a team-best 18 points in the victory while fellow freshman Makayla Hamilton tied Roque in rebounds with seven boards.
The Lady Lobos sprinted out of the gates with a 9-0 run capped by a three-point bucket by Angalyn Latin at the 8:21 mark, first quarter.
LeTourneau cut its deficit down to three at 5:38 off a fastbreak layup by Kaeuna Whitfield.
A long range jumper by Lizette Heredia at 3:45 sparked an 8-2 run as Sully ended the period with a 21-12 lead.
A layup by Latin completed an early 4-0 run in the second quarter before the Lady Lobos climbed out to a 35-17 lead off a banked three-pointer by Hamilton at 4:19.
Two free throws by Jazmine Saucedo at the 1:14 mark handed Sul Ross another 17-point advantage that extended to the break, up 42-25.
A pair of free throws by Whitfield narrowed the home team's deficit to eight with 4:18 left in the third period.
The Lady Lobos broke back out to a double digit lead and ended the quarter with a 4-0 run for a 51-39 advantage heading to the closing frame.
The visitors extended their lead to 21 midway through the fourth quarter with a layup by Roque.
LeTourneau could pull no closer than a dozen as Roque converted the final bucket for the 66-52 Sul Ross win.
Latin also posted double figure scoring with 15 points while Hamilton and Saucedo added 11 points each.
The Lady Lobos improve to 3-4 on the season and 1-1 in ASC competition. The Yellowjackets drop to 1-6 and 0-3.
Sully will take on East Division powerhouse East Texas Baptist University in a 1:00 p.m. conference tip Saturday in Marshall.