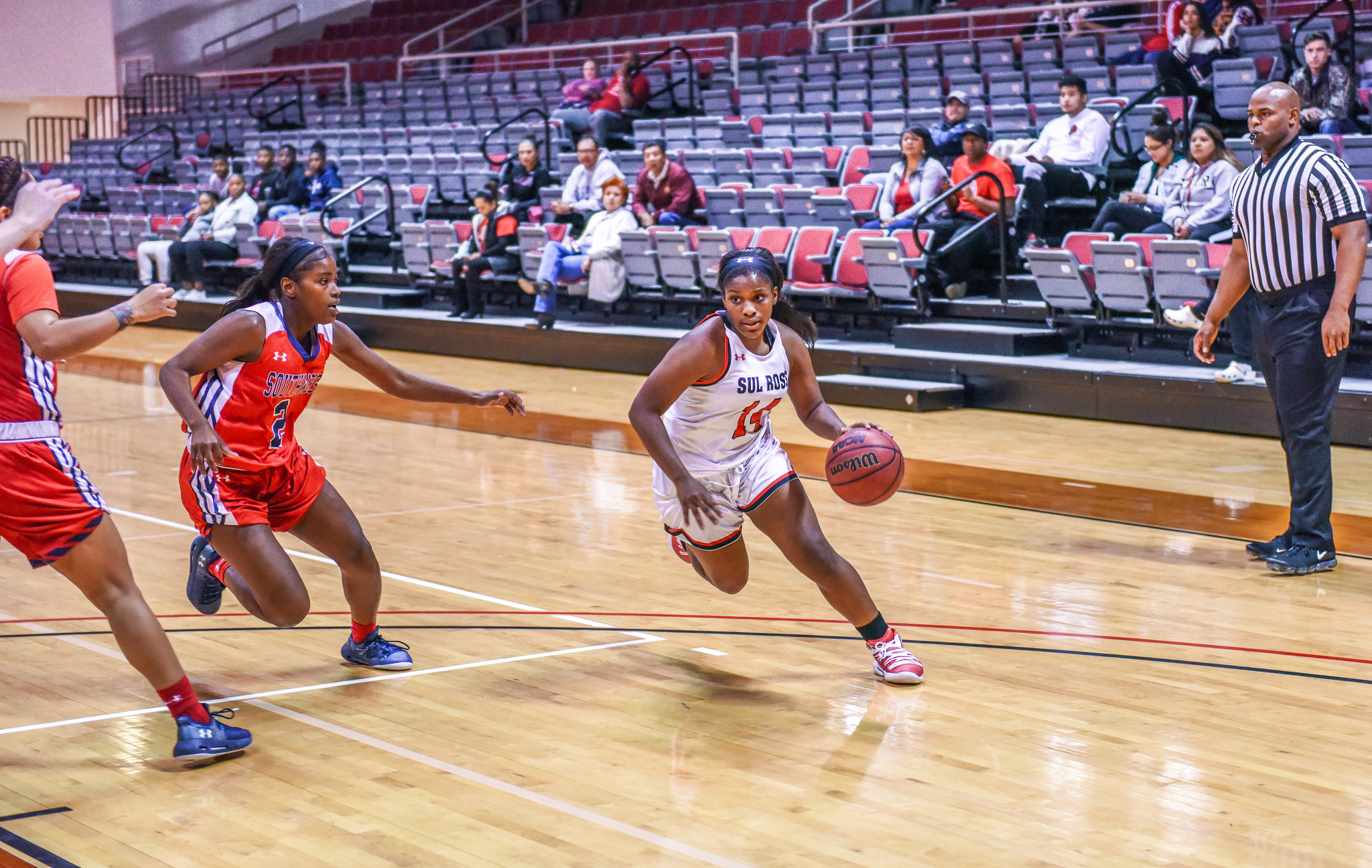 Posted by

Categories

Sports

Date

January 6, 2019
• by Travis Hendryx •
CLARKSVILLE, Ark.- Sul Ross Women's basketball fell 66-59 to host University of the Ozarks in American Southwest Conference competition Saturday in Clarksville.
Angalyn Latin led the Lady Lobos in scoring with 14 points while Lizette Heredia posted a team-best six rebounds.
The Eagles climbed to a six-point lead over the first three and a half minutes of the contest.
A layup and a followup free throw by Heredia with two seconds left in the first quarter pulled Sul Ross to within one, trailing 18-17.
A three-pointer by Ozarks' Hannah Weatherford extended the home team's lead by four, 45 seconds into the second period.
The Eagles would go on to lead by ten before a three-point bucket by Makayla Hamilton pulled the Lady Lobo deficit back to within ten at the 6:09 mark.
Ozarks then posted a 6-0 run for their largest lead of the game, a 12-point 35-23 advantage with 28 seconds remaining in the half.
A pull up jumper by Hamilton at 10 seconds cut the Sul Ross deficit to ten, trailing 35-25 heading to intermission.
Weatherford connected again from long range for a 44-33 Ozarks lead with 4:18 left in the third quarter.
A fast break layup by Latin at 2:42 cut the Eagles' lead down to one.
Latin again converted on a sprint layup at 17 seconds as Ozarks held tightly to a 48-47 lead heading to the closing quarter.
The Lady Lobos battled their way down to a pair of two-point deficits off a Latin triple and a midrange jumper by Chandre Nunez.
Ozarks was able to secure the win off a 4-0 run as the Eagles' Kamryn McKinney drained two free throws in the final second leading to the 66-59 final score.
Heredia and Nunez sported 12 and 11 points respectively in the effort.
Sul Ross drops to 4-11 on the season and 2-4 in ASC play while the Eagles improve to 7-6 and 5-1.
Sully will visit Howard Payne University next Saturday, January 12.  Tip off is scheduled for 1:00 p.m.