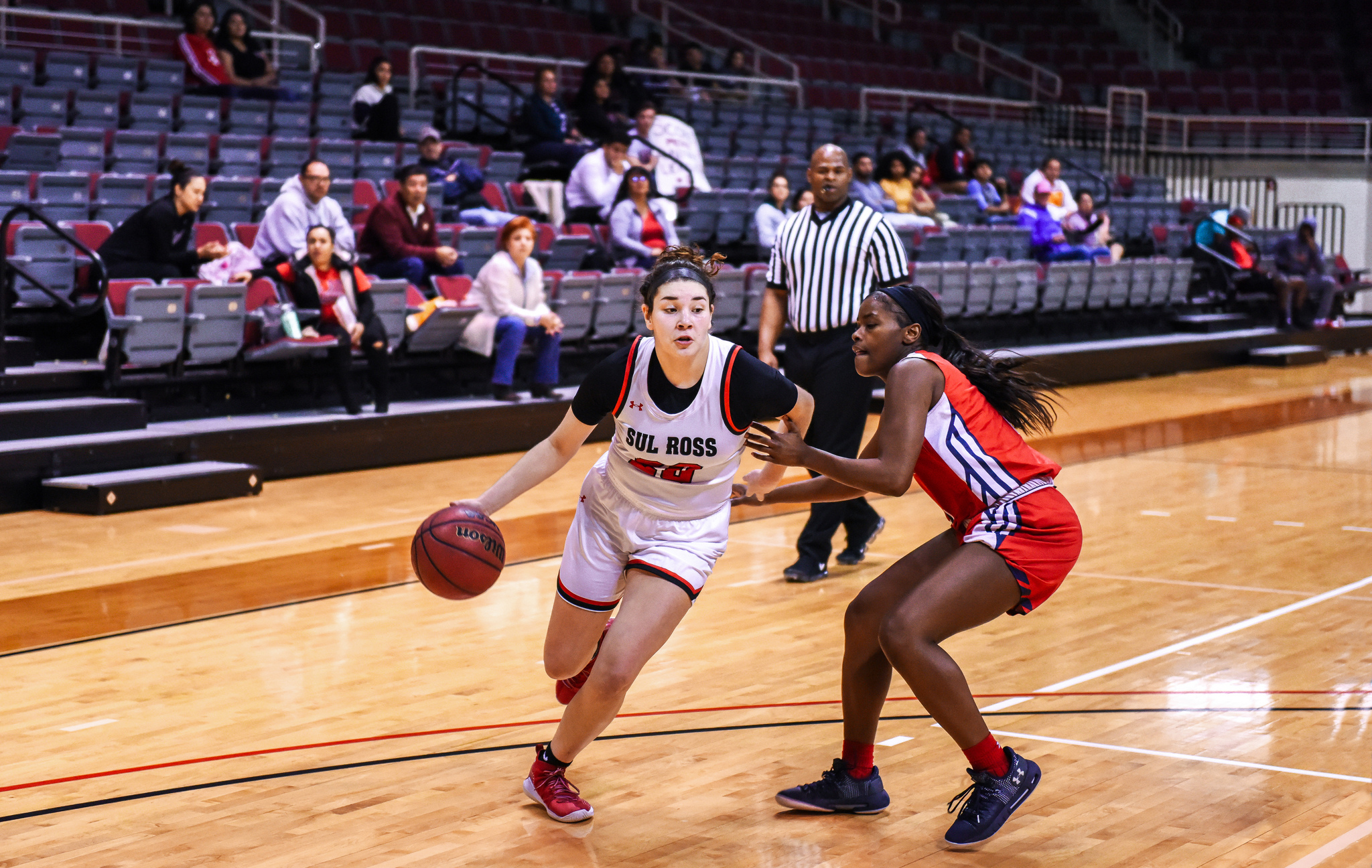 Posted by

Categories

Sports

Date

December 14, 2018
• by Travis Hendryx •
ODESSA, Texas- A late fourth quarter rally Thursday lifted the Sul Ross Lady Lobo basketball team to a thrilling 78-73 ASC victory over Belhaven University.
Lizette Heredia paced the team with 19 points and sported seven rebounds.
Back-to-back three-pointers by Heredia gave the Lady Lobos a 6-2 lead with 7:48 left in the first quarter.
Belhaven pulled to within one off the first of two free throws by Lauren Dunn and trailed 6-5 at the 6:57 mark.
The Blazers overcame their deficit and went on to lead by six off a foul shot Sandra Pugh at 3:00 minutes.
Jocelyne Roque's three-point basket at 1:47 pulled Sul Ross to within one, trailing 12-11 before Belhaven went on a 9-2 run and led 21-13 at the ene of the period.
The Blazers broke out to an 11-point lead off a jumper by Lylele Thornton with 6:19 left in the second quarter.
Sully cut its deficit down to five late in the quarter off a jumper in the paint by Jessica Magallanes before Belhaven pounced on a 5-0 run and led 42-32 at the half.
The Blazers would hold a pair of 10-point leads midway through the third quarter before the Lady Lobos narrowed the gap down to six with another long range bucket by Heredia with 13 seconds left in the frame and Belhaven ahead, 59-53.
Roque converted from the elbow to pull Sul Ross to within four with 9:45 remaining in the fourth quarter.
Nearly six minutes later, Makayla Hamilton banked from inside the paint to cut the home team's deficit to one.
Two free throws by Chandre Nunez at 2:46 swung the lead to Sul Ross for a slim 67-66 advantage.
One more tie would ensue before Angalyn Latin's three-pointer at the 1:56 mark would give the Lady Lobos a 70-67 lead.
Belhaven threatened with a three-pointer by Thornton  at 14 seconds and trailed by one, 74-73.
Sully ended the game on a 4-0 run capped by two fouls shots by Latin for the 78-73 win.
Nunez and Hamilton finished with 14 and 10 points respectively while Annie Lenoir also contributed 10 points. Magallanes led rebounders with eight boards.
Thursday's victory improves Sul Ross to 4-5 on the season and 2-2 in ASC play. The Blazers drop to 3-4 and 1-2.
The Lady Lobos return to Odessa and the U.T.P.B. campus Saturday for a 1:00 p.m. conference bout with Louisiana College.
Saturday's contest will be streamed live on the Sul Ross Sports Network.