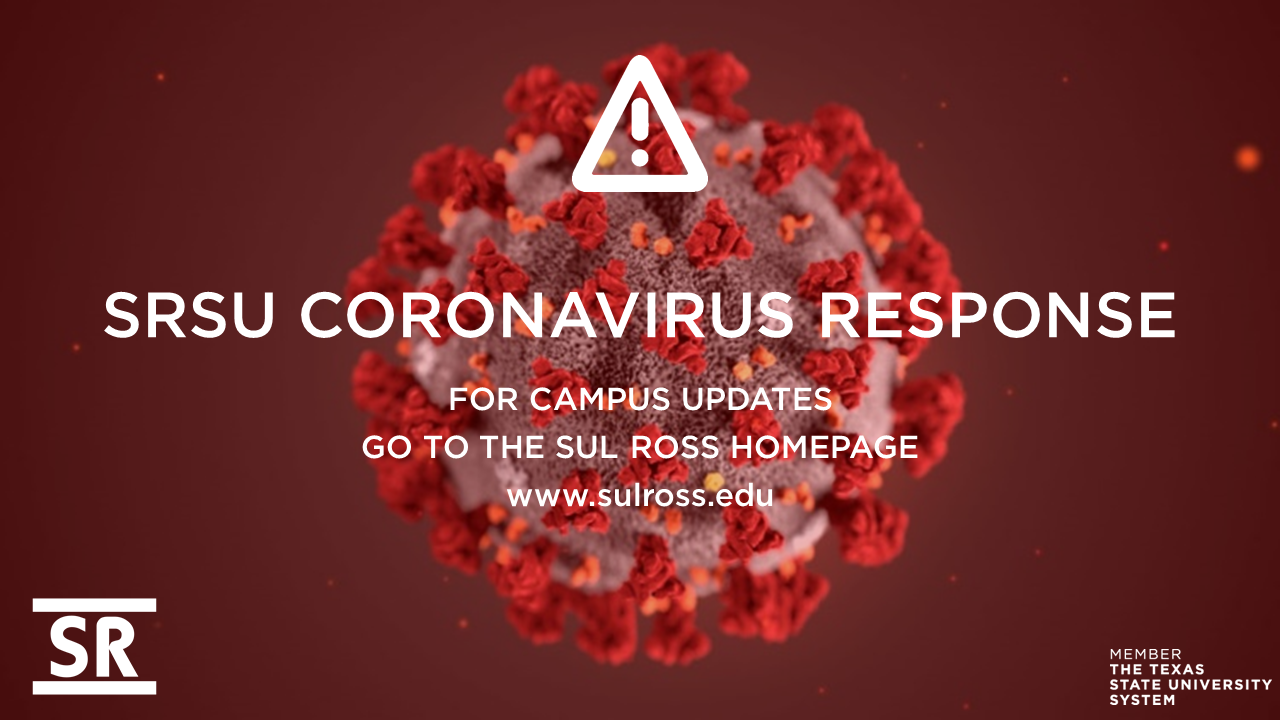 Posted by

Categories

News

Date

April 2, 2020
Governor Abbott issued an executive order announcing Essential Services and Activities protocol to minimize non-essential gatherings and in person contact with people on March 31, 2020. Sul Ross State University will remain open and continue business operations under this order. We are working with the Texas State University System to address the protocols and determine additional steps needed. Click here to read Governor's executive order: www.gov.texas.gov/news/post/governor-abbott-issues-executive-order-implements-statewide-essential-services-and-activities-protocols
Congress recently passed the Families First Coronavirus Response Act (FFCRA).  The FFCRA requires Sul Ross to provide employees with paid sick leave and expanded family and medical leave for specific reasons related to COVID-19 and will apply from April 1, 2020 – December 31, 2020.  Sul Ross developed guidelines that comply with the Act and provide guidance for employees:
www.sulross.edu/section/315/human-resources.
Additionally, Brewster County (Alpine Campus) issued a shelter in place order on March 31, 2020 that permits only essential businesses to remain open. Sul Ross will continue business operations both on campus and through remote work to fully comply with the order (Ord. No. 7, Sec. 14 Certain Educational Activities). Please note that Val Verde County (Del Rio Campus; valverdecounty.texas.gov/) and Maverick County (Eagle Pass Campus; co.maverick.tx.us/) remain under order for shelter in place.  For updates for City of Uvalde (Uvalde Campus) go to: www.uvaldetx.com/.  And in surrounding areas near Alpine both Presidio County and Jeff Davis County issued shelter in place orders as well.  To comply with the orders, employees working on campus must carry a Sul Ross issued transit authorization form and Sul Ross ID with them that identifies the university as an essential business. Please contact your supervisor for instructions on how to obtain the authorization forms.
Above all else, please stay home Lobos, only go out when absolutely necessary, it is up to you to protect yourself and your loved ones.
Effective March 31, 2020, the university identified the following offices as essential to continue business operations at all campuses. Employees in these areas are permitted to work on campus if remote work is not feasible and must follow CDC guidelines for social distancing and safe work habits to prevent the spread of the virus. Our custodial services are taking precautions to maintain clean offices, but you should remain vigilant and protect yourself.
Admissions (On Campus and Remote)
Financial Aid (On Campus and Remote)
Communications and Marketing (On Campus and Remote)
Accounting, Budget, and Business Services – Employees in this area and employees who submit forms to this area may fall under this category. For example, employees who regularly process requisitions, travel, employment documentation for their department are considered essential to business operations. (On Campus and Remote)
Academic Affairs including Advising, Faculty Instruction, and Instructional Technology (On Campus and Remote)
Information Technology Services (On Campus and Remote)
Library Services (On Campus and Remote)
Human Resources (On Campus and Remote)
Registrar (On Campus and Remote)
Advancement& Alumni (On Campus & Remote)
Institutional Effectiveness (On Campus & Remote)
Academic Success Center and other Student Services (On Campus and Remote)
Dining Services for To-Go orders only (Alpine – On Campus)
Residential Living (Alpine – On Campus)
University Post Office (Alpine – On Campus)
University Police (Alpine – On Campus)
Physical Plant (Alpine – On Campus)
Print Shop (Alpine – On Campus and Remote)
The situation surrounding the COVID-19 pandemic remains fluid and requires significant flexibility to continue providing services and conducting university business. Previous updates included information for university employees and student employees regarding the work situation. The following points either add to the current information or provide updates based on the available knowledge.
Sul Ross State University remains open and will continue business operations. However, university offices and buildings are closed to the public and individuals seeking services should contact university employees via phone or email. Please allow time for employees to receive messages and respond. Our commitment is that we will reply as soon as possible. For a list of major offices' contact information please go to the FAQ page on the COVID-19 webpage: srinfo.sulross.edu/covid-19/
Effective April 2, 2020, Sul Ross State University will reduce the use of university emergency leave and will resume business operations. Based on federal guidance from the Families First Coronavirus Response Act, employees are eligible to receive emergency paid sick leave under certain conditions. To read the Sul Ross State University guidelines please click here: www.sulross.edu/section/315/human-resources
University employees have continued working either on campus while practicing social distancing and other measures prescribed by the CDC or through remote work.
Employees working remotely should continue to do so until further notice and avoid being on campus except for crucial and compelling reasons, i.e. pick up equipment, sort mail, scan documents. Staff employees should complete the telecommuting agreement.  Faculty are not required to complete the telecommuting agreement.  You may access the agreement here: www.sulross.edu/section/315/human-resources
We cannot predict when the situation will be resolved but we must continue business operations. Effective April 1, 2020, the university strongly encourages supervisors to provide maximum flexibility for employees who are unable to work remotely due to the nature of their job responsibilities by taking the following measures. Supervisors must provide work schedules to division heads by April 3, 2020 or when changes occur:
Offer flexible hours to ensure that employees are not working in close proximity with each other in the same office space. Employees are permitted to work on campus between the hours of 6:00 am and 9:00 pm, seven days a week.  For example: if an employee receives approval from their supervisor, they may work the standard 40-hour week on campus outside of the normal 8 am – 5 pm, Monday – Friday business week and may now include weekends.
Actively encourage staggered work schedules for employees who must work on campus in environments with limited space.  For example: one employee may work 6:00 am – 2:00 pm M-F and a second employee may work from 2:00 pm – 9:00 pm M-F. When unavoidable overlap occurs, employees must follow CDC guidelines.
In cases where employees must care for children and are unable to work either on campus or through remote means, the Families First Coronavirus Response Act provides measures for emergency leave beginning on April 1, 2020 under the Emergency Family and Medical Leave Expansion Act for Child Care Conditions. For the full guidelines please click here: https://www.sulross.edu/section/315/human-resources
Student and Temporary Employees will receive paychecks through April 30 or as authorized by each department. Employees received messages to Sul Ross emails from the Human Resources office with additional details. Student and temporary employees are discouraged from being on campus to work unless supervisors provide compelling justification to division heads for those arrangements.
Remote Course Delivery – Faculty members continue working out details to use Blackboard and Zoom Technology to deliver courses.  Students will receive grades per course and should remain in contact with instructors if concerns or issues arise.
Last Day to Withdraw – Sul Ross extended the last day to withdraw from courses to April 9. Students receiving financial aid should consult with counselors prior to dropping courses to determine potential future impact to financial aid.
May 2020 Commencement Cancelled – Students who complete all requirements must apply for graduation by Friday, April 3 and will receive diplomas via certified mail. Graduation is a special time at Sul Ross, and we will miss the opportunity to recognize our graduates at the commencement ceremony in May. We encourage students to participate in the December commencement ceremony pending any additional information with the pandemic. We are developing a commemorative video that will feature photos from our graduates, please check your Sul Ross email or Sul Ross social media for more details about photo submission.
April 10, 2020 – The University is closed in observance of Good Friday.  Essential Services will reopen on Monday, April 13.
Effectively immediately, Sul Ross State University is pleased to announce all applications for freshman admission will be considered under a holistic, test-optional format for students applying for Summer 2020 and Fall 2020. Students will not be required to submit an SAT/ACT score to receive an admissions decision.
We understand that the uncertainty of the situation continues to cause anxiety and stress. We must look to other states and countries to learn lessons from their experiences with this virus.  In doing so, there are two key points that we should all remember:
Wash your hands and disinfect high contact areas – take additional precautions and stay vigilant.  The virus is fragile and can be killed on skin and hard surfaces easily but you must do your part.
Stay home. We are all in this together and through our collective actions, we can help to prevent the spread by limiting our interactions outside our homes.