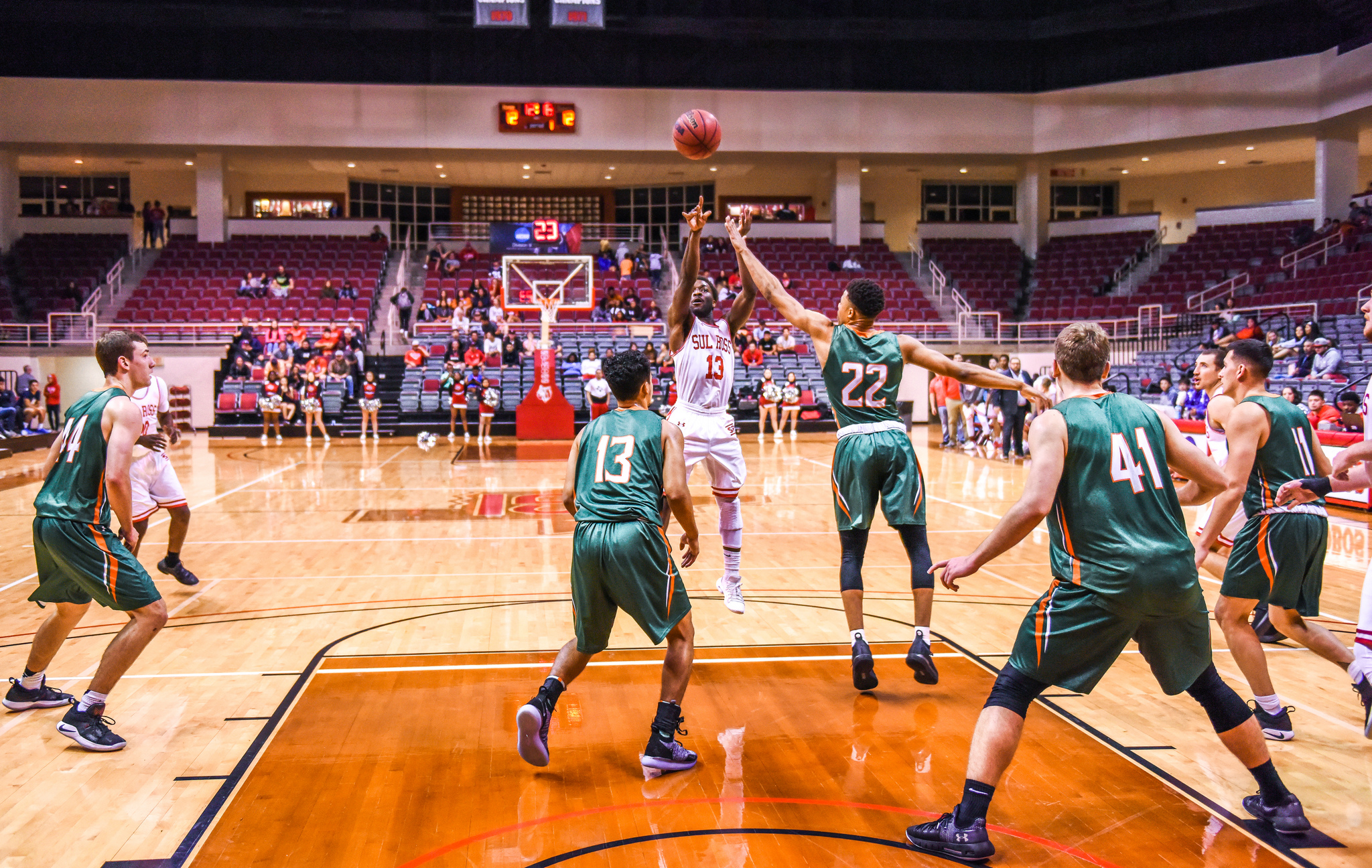 Posted by

Categories

Sports

Date

January 13, 2019
• by Travis Hendryx •
BROWNWOOD, Texas- Sul Ross and Howard Payne men's basketball teams battled for two halves but hot perimeter shooting in the second half propelled the Lobos to an 82-78 victory over the Yellow Jackets in Saturday afternoon ASC competition in Brownwood.
Sophomore guard Tristen Licon led the Pack with 22 points while B.J. Hollis just missed his second season double double with 11 points and nine rebounds.
A step back jumper by Conner Dawson put the first points on the board for either team seven seconds into the game.
The Yellow Jackets then took advantage of Lobo turnovers and mounted a 10-0 run for a 17-4 lead with 14:42 left in the first half.
Sul Ross fought its way down to a four-point deficit as Dawson connected on two free throws at the 10:14 mark.
Jola Otubu then drained a three-point basket at 7:36 with Howard Payne on top, 24-21.
With just under three minutes left in the half, Otubu fired off another triple and pulled Sully to within two, 32-30.
Otubu struck again on the next possession with a layup to tie the game at 32 at 2:08.
Licon then banked from long range at the 1:31 mark giving Sul Ross just its second lead of the outing.
The Jackets' Shad Cole ended the half with a jump hook for a 36-35 Howard Payne lead heading to the break.
A Licon three-pointer capped a 6-0 Lobo run and gave the visitors a 50-42 lead with 16:27 left in the second half.
Licon connected again from outside the curve at 14:44 giving Sully's its first double digit lead.
Jack Kirkpatrick then rang in a triple at the 12:39 mark for a 65-49 Sul Ross advantage.
The Jackets slithered their way down to a seven-point deficit at 3:55 and cut the Lobo lead to four off a three-pointer by Luke Cox with 35 seconds left in the game.
A Yellow Jacket foul sent Dawson to the stripe where he converted the final point for either team as Sully held on for the 82-78 win.
Otubu and Kirkpatrick supplied ten points each in Saturday's victory.
Sul Ross improves to 8-8 on the season and 3-4 in ASC play. Howard Payne drops to 3-16 and 1-6.
The Lobos visit McMurry University on Thursday. Tip off is 7:30 p.m. from Kimbrel Arena.