Experiencing the Area: Hiking Hot Springs Canyon Trail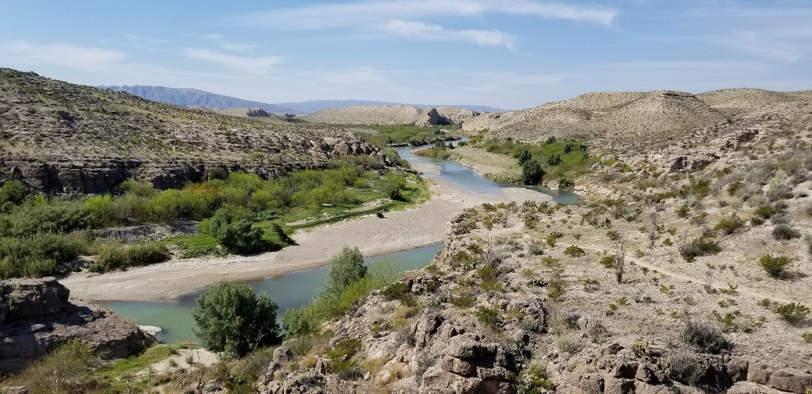 By Joh Covington
Skyline Reporter
There lies along the river border between Texas and Mexico a literal "hotspot." On one day in particular, this spot gave me and two friends a summer trip to remember. We decided to make the three-mile hike to the famous Big Bend hot springs.
There, a huge open sky breaks on a horizon of rushing water, bending reeds, and tall, slated stone. Sitting in the 105-degee, natural hot springs, far and away from any hustle and all bustle, the rocky spa promises to—and delvers—steam some troubles away.  So, we decided to try it on a day hike.
Once we set off from Daniel's Ranch, the hike towards the Hot Springs began with an immediate steep ascent. Climbing uphill is always a nemesis of mine, but, without shade it proved a particularly unfriendly direction midday. I learned that it would be best to start earlier…definitely earlier, than we did. Undeterred, though, we continued marching toward our destination.
Our objective was less the finish line and more the journey, itself. One of us (not I) blazed the trail ahead, leaving the other two of us behind—we found ourselves pausing for water and gulping air for what seemed like every other step. The sun was high and tough on the eyes, but the fresh breeze gave us sweet relief and motivated us to keep climbing.
During some stretches of the hike, we played music, and this would push our feet forward with the beat. In other spots, we walked in silence, watching and listening to the desert around us. Shades of blue coated the distant layered mountains. Gold grass and rock framed the creeping Rio Grande. The trail was ours:  The only other people we saw were an impressive family of four the two young children shaming us with their energy and obvious hiking skills.
Despite my lack of natural skills and the fact that it always seems to punish my lungs and legs, hiking is a precious joy of mine. This desert's beauty is awe-inspiring, and I love its inspiration. Breathing becomes more meaningful when standing on the edge of a cliff, the vast and celestial sky stretching out as far as the eye can see.
On this hike, we got to the summit, and the walkway sloped down, up, and then flat. Every turn of the head offering a view, a new work of art.
At last, we reached our target. After climbing rocks and jumping down slopes, we reached the cool and shaded edge of the river. There were quite a few people there to greet us, their cars parked only yards away. We sat in the warm shade, ate a few snacks, and guzzled water–hiking there rather than driving, totally worth the effort.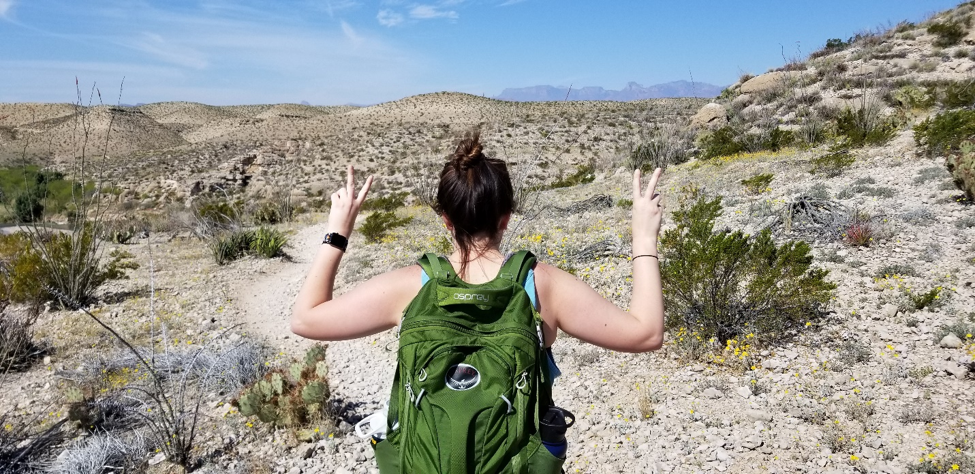 Our first dip relieved our sore muscles and rewarded our morning's labor. Between the warm mineral water and the colder river-boundary separating us from this country's neighbor, we exited the waters completely refreshed.
During the soak, I discovered that the best spot to stand might be in the river itself but at the base of the hot spring's edge. As the hot water overflows and meets the cold of the bubbling river, it creates a perfect meeting between comforting warmth and refreshing cool. I would not, however, suggest this unless you are a strong swimmer and comfortable with the Rio Grande River—the smooth surfaces within the waters can hide a strong current capable of pulling you quickly away from where you started.
While enjoying our Big Bend day-adventure, we met people from Australia and Canada. We enjoyed conversations with interesting strangers we never would have met if we hadn't made this journey. After several hours of swimming and just "chilling out," we packed up and started our trek back to our car—this time, rather than a sock, our journey ended with the welcomed air-conditioned car as the prize.
Whether you make the drive or brave the hike, the hot springs found in the Big Bend National Park rewards its seekers with soothing waters, lovely views, and good fun.
This Reporter's Suggestions:
Bring a lot—and I mean a LOT—of water. It is a dry desert, and dehydration is nothing to play with. Plus, swimming in hot water always makes you thirsty!
Bring snacks. Keeping your energy up can mean the difference between a good day and a bad one. Hangry anyone?
Throw some swim shoes or sandals into your bag. If it's warm, you will probably want to cool off in the Rio, and the rocks along the shallow edges make it feel like you are walking on a field of small Legos. I speak from experience.
Leave it better than you find it. Don't litter—obviously—but, if you see that someone else has, take care of it. It may not feel like a big deal, but it does make a difference.
Bring someone fun! Share this beautiful place with a person that will make it even better.