Q & A with President Kibler on Eve of Retirement
Posted by

Categories

Features

Date

May 14, 2020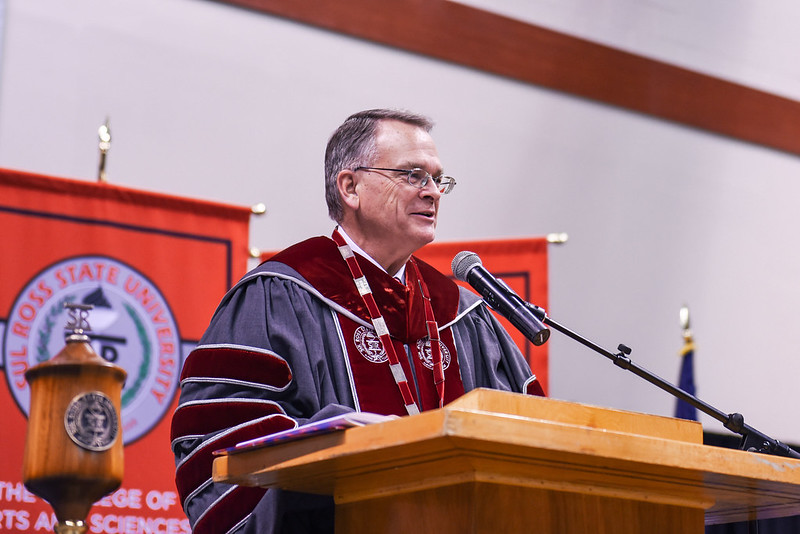 By: Viviana Sanchez Skyline, Reporter
Sul Ross President Dr. Bill Kibler retires this June after a five-year tenure. I had the opportunity to ask Bill (as he prefers to be called) my burning questions about his time at Sul Ross and his plans post-retirement. Here's what he said.
Why did you want to become president of Sul Ross? 
When I was approached about the position, I thoroughly reviewed the institution and its current status.  I honestly felt that I could make a positive difference.  I was also drawn to the mission, purpose, and history of Sul Ross and the life changing impact it has on the students.  At the time, I had been working in higher education administration for about 37 years and felt that my experience and background had prepared me for the challenge of serving as the President of Sul Ross.
Have you had any experience being president of a University? If so, where?
No.  I served as a Vice President at Mississippi State University and Texas A&M University.
What are some of your best memories of being president of Sul Ross? 
My best memories are all the students I have had the pleasure of getting to know and work with.  It is always amazing to me to watch life-changing experiences and see students move on to have successful lives.  I have fond memories of some of the successes we have had during my time at Sul Ross.  We achieved full re-accreditation for the next ten years; we developed a new Strategic Plan for the university; our athletic teams and our rodeo teams have achieved exciting success; our Center for Big Bend Studies signed an historic agreement with the Government of Mexico; our Museum of the Big Bend continues to impact the region and tell its unique story and will soon launch a $10 million expansion project; our Borderlands Research Institute continues to grow in its reach and influence throughout the region.  I could go on and on – it has been an exciting and eventful six years.
What will you miss the most about Sul Ross? 
I'll miss the students most and also the many colleagues on the staff and the faculty that I have had the privilege to serve with.
What led you to the decision to retire? 
It was a decision that my wife and I made that, after 43 years of service in higher education administration, it is the right time.  I announced my intention to retire in November so that the university and the Texas State University System would have plenty of time to search for a new President prior to my actual retirement in June.
What advice would you give to the students of Sul Ross? 
Get a life, a real life, not just a manic pursuit of the next promotion or a new car or a new house.  A life where you are surrounded with other people who care about you, a life where you get to love the people and the things that really matter.  Remember that who you are is not the same as what you do.  Remember that no one ever said on his or her death bed, 'I wish I had spent more time at the office."  And lastly, remember these words of John Wesley:  "Do all the good that you can; by all the means that you can; in all the ways that you can; at all the times that you can; to all the people you can; for as long as you can."
Image by Sulross News