Homecoming: A Lobo Tradition Like No Other
Posted by

Categories

News

Date

October 23, 2019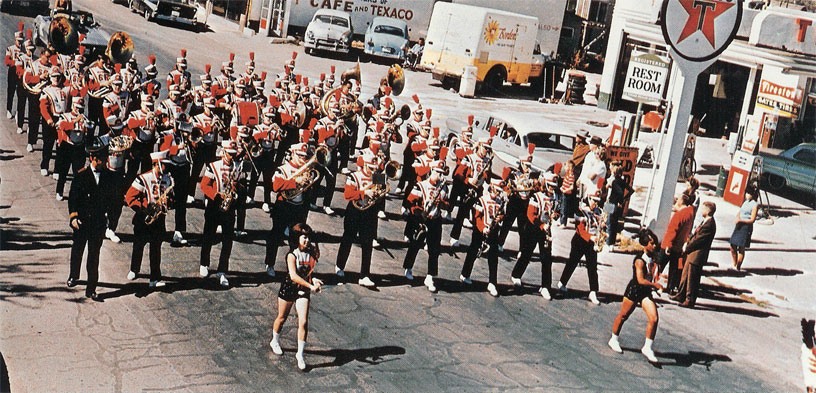 By Gabriela Olivas, Skyline Reporter
It's Homecoming time again!  Sul Ross State University students, alumni, staff, faculty, and community members join together this week to celebrate the spirit and traditions of Sul Ross.  Lots of fun and exciting activities are happening this week, all of them leading up to Saturday's parade, game, and coronation.  Some Lobo traditions date back decades (even to our beginning years almost a century ago!) while others are newer, but this week is a time to come together as a pack and howl our spirit!
This week, we will paint and light the Bar-SR-Bar, elect a Queen and King, and take over Alpine with our Homecoming parade. Departments and other groups will compete in a door-decorating contest, each area trying to outdo the others in creativity and originality. Sul Ross State University holds many historical traditions that highlight who we are and where we've come from.  In order to enhance this year's homecoming, we'd like to take you on a journey to a few homecomings past.  Go Lobos!
Homecoming 1983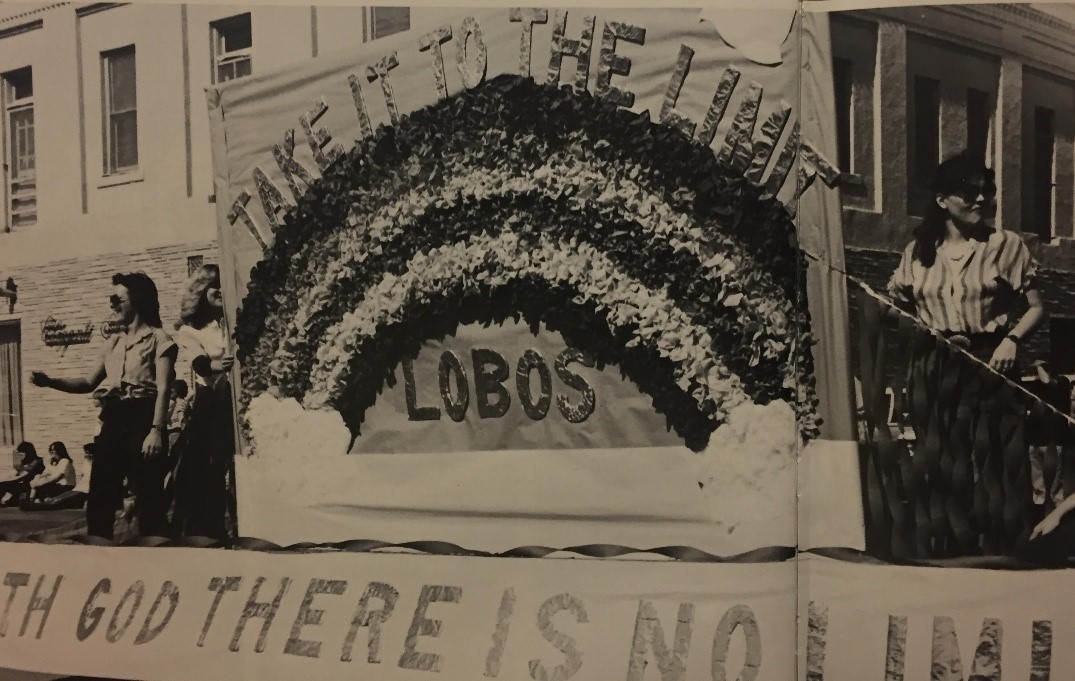 The Baptist Student Union takes first place in the float contest.
The Homecoming Parade kicked off with a bang in 1983 with elaborate floats emerging from Holland Avenue in a fierce competition for best float. The homecoming theme that year was "Take It to the Limit" inspired by a popular Eagles song.  The top three winners for the most original floats went to The Baptist Student Union, the Newman Club, and the Art Club. The Baptist Student Union won $75 cash—a big prize in 1983.
Lisa Jo Chandler was crowned Homecoming Queen. No King was crowned in the eighties, but queens were escorted by beaus.
The Homecoming bonfire was another tradition with student clubs competing to provide the most wood for the fire. The Clip-n-Brand won this year's prize, helping to arrange and transport wood to keep the bonfire ablaze.
Homecoming 1992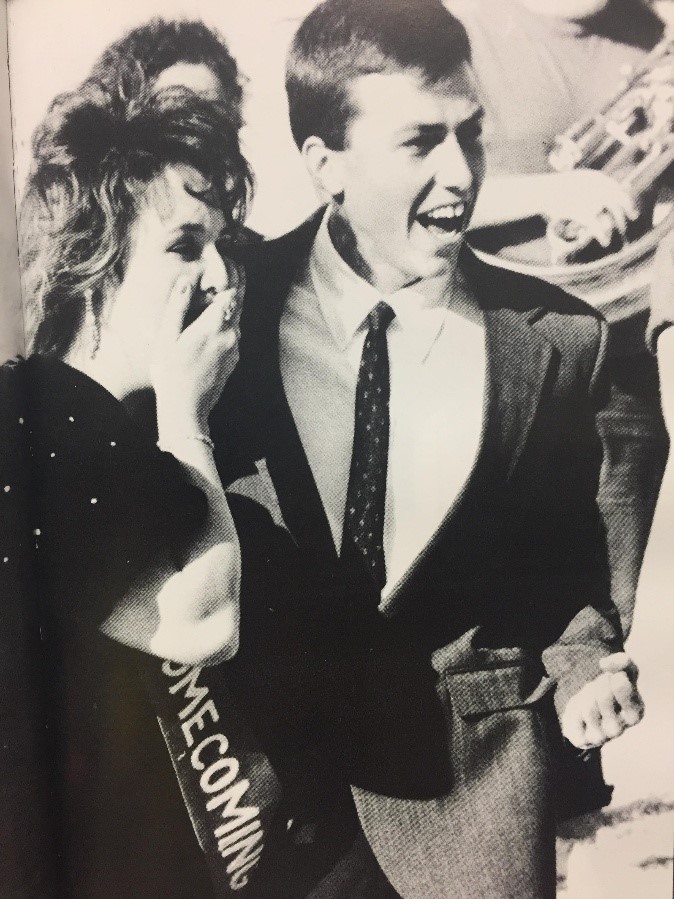 Melissa Murphey appears shocked and delighted to hear her name called as Homecoming Queen with her escort, Nate Sprinkle.
Students walked up Hancock Hill as part of Homecoming for 1992. The Bar-SR-Bar was painted white before it was set afire, burning with a breath-taking flame that elicited cheers and applause from the students.
Freshman Leadership Program students lit up the Bar-SR-Bar and painted the rocks to help it catch fire.
The bonfire's award for most wood went to the members of the Law Enforcement Association, and they helped with the lighting of the fire. This Homecoming game was also "senior night," and the bonfire also featured a pep rally with senior football players offering speeches about playing their final game in college.
The Homecoming Parade once again kept Alpine's streets alive with the theme "Viva Sul Ross" with colourful floats decked out in traditional Mexican and Aztec flair, including sombreros, and serapes. The Art Club took first place with their float filled with Aztec designs and a cactus dressed in a Mexican-styled costume. The theme proved an excellent showcase for this area's Hispanic heritage and culture.
Melissa Murphey was crowned Homecoming Queen for 1992.
Homecoming 2006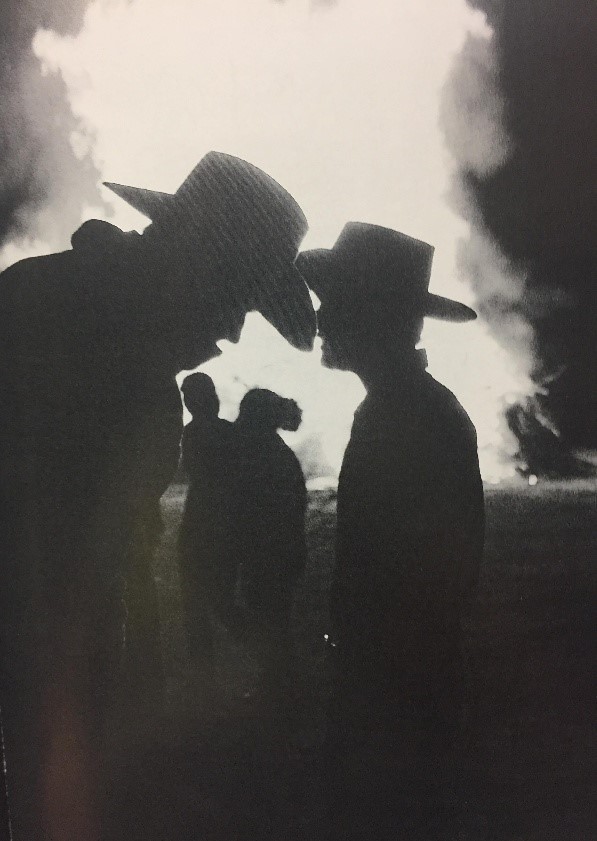 Two cowboys against the backdrop of the bonfire.
"Building New Traditions" was the theme for 2006. A contest for designing the logo was won by Joe Henry Torres, and his designs were used for commemorative T-shirts.
Two major developments occurred in the selection of Homecoming royalty:  Voting for Homecoming court moved to an online platform, and we adopted a full royal court featuring a Queen, Jeanette Rangel, and a King, Rockland Owens.
This year, a Homecoming derby became another homecoming tradition. The derby included a pickle-eating contest, a bike race, a litter race, and a tug-of-war, which was won by the SRSU Soccer Club.
The traditional lighting of the Bar-SR-Bar again was held at Hancock Hill. Freshman led the way, caught on camera playing around, at times getting more paint on themselves than on the rocks. A free Homecoming T-shirt as well as pizza, sodas, and water were given to the participants. The Range and Wildlife Club provided the wood for the bonfire, and the Alpine Volunteer Fire Department made sure everything remained safe.
Homecoming 2019: Be a Part of the Tradition!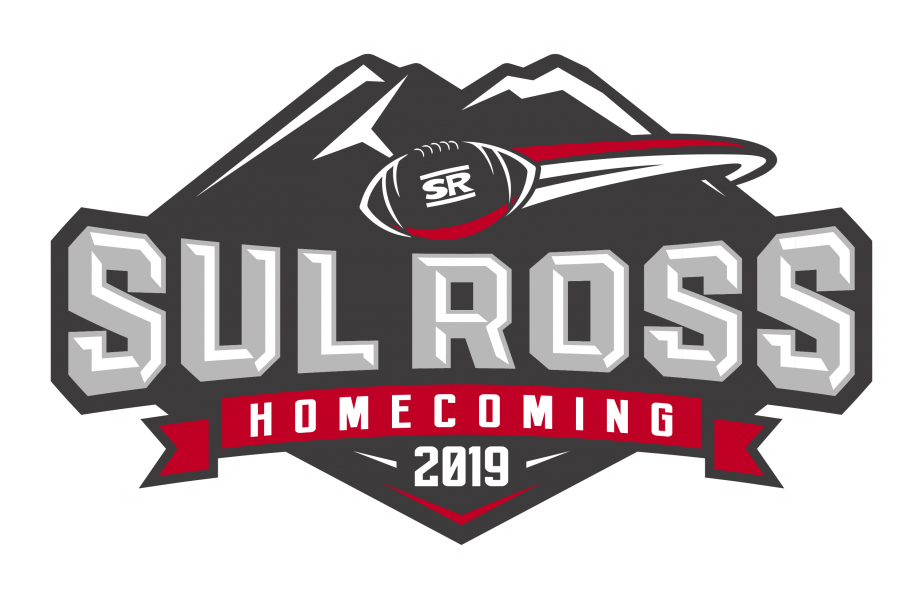 Sul Ross State University has kept up with many of its traditions, including the Homecoming game, parade, and door decorating contests, as well as entertainments. Some activities change from year-to-year and others are added, but Homecoming will always be filled with awesome activities throughout the week.  This year, we will culminate our celebration Saturday with the football game at which we will crown this year's Queen and King.  Voting continues this week until Thursday 11:59 p.m.
The court has been named with their sponsoring groups:
| | |
| --- | --- |
| Kings | Queens |
| Eduardo Garcia, Lobo Dance Team | Rebecca Ramos, TSTA-AE |
| Matthew Tellez, Sully Productions | Jessica Magallanes, Sully Productions |
| Victor Santana, SSS Club | Janelle Galvan, SSS Club |
| Izaiah Jordan, Kinesiology Club | Jacqualine Santa Cruz, Kinesiology Club |
| Juan Rodriguez, Collegiate FFA | Mikayla Lozano, Collegiate FFA |
Monday started off with wearing Tie Dye, continuing the week days with Twin Tuesday, Western Wednesday, Jersey Day Thursday, and Friday "Lobo Spirit!"
This week's activities all lead to the Homecoming parade Saturday morning and a 6:00 p.m. kickoff at Jackson Field against the Texas Lutheran University Bulldogs. The parade starts at 10:00 a.m. at the Civic Center parking lot and commencing east toward the university. The lighting of the Bar-SR-Bar on Hancock Hill will take place on Thursday evening after a flag football game at the Rec fields. Gallego Center parking lot is an excellent vantage point for watching the lighting of the Bar-SR-Bar.  See you there!
From glow runs to pizza parties, there is something for everyone this homecoming week.  For a full listing of this jam-packed Homecoming week, visit www.sulross.edu/homecoming.  You will find the link to vote for Homecoming Queen and King there—look for daily updates.  Join us to howl our Lobo spirit!