A Brief Case for Dungeons and Dragons: The Feelings of Fellowship
Posted by

Categories

Features

Date

March 9, 2020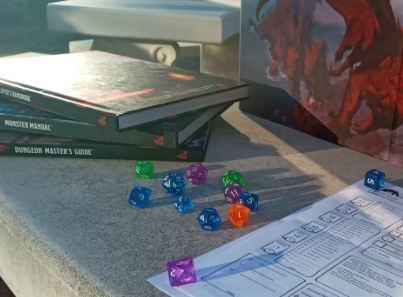 By Valeria Salas Ibarra, Skyline Reporter
Whether it was Stranger Things, The Big Bang Theory, or that one group of weirdos that talks loudly during lunch, chances are you´ve heard of Dungeons and Dragons. However, when pop culture portrays this game, it tends to miss the point showing a group of kids or lonely grownups in silly costumes, with a stack of thick, hardcover books, and rolling weirdly-shaped dice, all while acting like other people. This is only half-truth.
Dungeons and Dragons, or D&D for short, is, contrary to popular belief, an extremely social experience—it has to be, since, at its very core, D&D is an improvised, communal storytelling game. While D&D is similar to choose-your-own-adventure videogames, it´s more open-world, as audience and writers are combined in this game, with the only limit being their imagination and, occasionally, the roll of the dice.
At first, D&D appears to be intimidating. Conventional first impressions tend to provoke questions, among many, such as: "Just why are there so many dice? Do I have to buy all of those expensive-looking rulebooks? How do I do this?"
First off, the best way to be introduced to this game is either to play it or watch it be played. If you decide to play it, it´s recommended to look for a group of people who have a degree of experience with it. If, on the other hand, you decide to watch it, I recommend watching a YouTube video entitled, "D&Diesel with Vin Diesel."
Yes, Vin Diesel and many other famous actors play Dungeons and Dragons.
Back in high school, whenever I thought about going to college, living under an unfamiliar roof with a total stranger, it never crossed my mind that I would be pulling all-nighters for anything other than studies . . . because there was no way that I´d put fun before my grades. As one probably expects, this was thrown out the window the moment I stepped into a Dungeons and Dragons session.
In the semester of Fall 2019 (my freshman semester) Sully Productions hosted a Dungeons and Dragons game night. During this event, which was attended by more people than anyone had anticipated, I found what would later become the closest group of friends I've ever had. Shortly after meeting them, we started having our own completely improvised sessions.
Playing this game with your friends will reinforce friendships, and it´ll create new ones if you´re playing with strangers. Your imagination, problem-solving, and social skills will be improved after just a couple of months of playing.
Similar to the longed-for adventure that Bilbo Baggins experiences when the Dwarves sing of forgotten gold and a long-lost home in The Hobbit, D&D is a unique experience, yet it provides something universal: A feeling of fellowship among your fellow players, tears derived from extreme and uncontrolled laughing, and genuine heart-touching moments.