The SRSU Blackboard Online Support Desk is where faculty can direct all your Blackboard questions or requests. For instance, if you are the instructor of record for a Blackboard courses and need to add a TA, GA, or additional instructor to your course(s), merge course sections, need help with course copying content, need help with using a Blackboard feature in your course (such as Collaborate Ultra), etc., contact the Online Support Desk.
The Blackboard technical support desk is open 24 hours a day/7 days a week for your convenience.  To reach the support desk:
You can also email your SRSU Team of Blackboard Instructional Designers directly: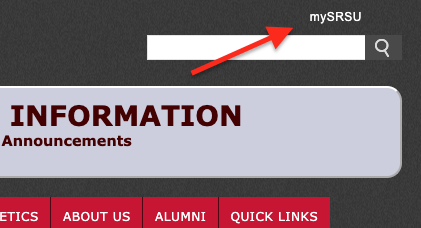 For access to all your SRSU technology areas, log into your mySRSU portal using your Lobo ID (username) and Password.
Your mySRSU portal dashboard gives you access to your SRSU account information along with quick links to your SRSU email, Blackboard, OneDrive (your Office365 cloud storage area), My Degree Plan (Degree Works), LTAC (SR Helpdesk) assistance, as well as links to all SRSU student services and informational areas. The mySRSU login is located at the top right of all SRSU webpages above the search field.
The Lobo Technology Assistance Center (LTAC) is your student support Helpdesk.
LTAC is your first line of support for any technology problems you may be having outside of Blackboard.
To contact SRSU LTAC for assistance:
Website: https://www.sulross.edu/oit/
Email: techassist@sulross.edu
Phone: 432-837-8888   Toll Free number: 1-888-837-2882
Lobo Pass (SRSU Password Management System): https://lobopass.sulross.edu/LoboPass/
Find My Username and Password using Lobo Pass
Your SRSU Online Support Desk is here to support our SRSU students in making the move online using Blackboard.  The Online Support Desk is where you can direct your more technical Blackboard questions.  For example, if you are having issues submitting a document, getting videos to play, or you are dealing with a technical error in the course.  The Blackboard Online Support Desk is open 24 hours a day/7 days a week for your convenience.  You can reach the support desk:
– By calling the toll-free number: 888.837.6055
– Via email blackboardsupport@sulross.edu
– Via Blackboard Login & Resources page: https://www.sulross.edu/bb
The Blackboard student support resources area can be found on the Blackboard login page:https://www.sulross.edu/page/4551/studentresources
Information that can be found here includes how-to's on using all your primary Blackboard tools and features as well as links for getting the Blackboard app for your smartphone and more.
Blackboard Learn videos for students: https://help.blackboard.com/Learn/Student/Watch_Videos
SRSU Distance Education Handbook (note the section on "preparing your computer for Blackboard"): http://tvpb.sulross.edu/start/index.html
The SRSU Library and Archives supports the discovery and access of resources and services.
SRSU Library and Archives website: https://library.sulross.edu/
Email a Librarian: srsulibrary@sulross.edu | Email an Archivist: srsuarchives@sulross.edu
To call the front desk: (432) 837-8123
---

SRSU Contact List at a Glance:
Accessibility Services – 432.837.8203
Advising – 432.837.8982
Bursar's (Cashier) Office – 432.837.8047
Financial Aid – 432.837.8050
Library – 432.837.8123
Operator (Alpine) – 432.837.8011
Operator (Del Rio) – 830.703.4808
Operator (Eagle Pass) – 830.758.5005
Operator (Uvalde) – 830.279.3004
Registrar's Office – 432.837.8049
Residence Life – 432.837.8190
Student Orientation – 432.837.8982
Tutoring and Learning Center – 432.837.8865
Troubleshooting Tips:
Clearing your browser cache – https://clear-my-cache.com/windows.html
Test your webcam – https://webcamtests.com
Test your microphone – https://webcammictest.com/check-microphone.html
Test your internet speed – https://www.speedtest.net
Download Google Chrome – https://www.google.com/chrome
Google Chrome Browser Cookies – https://support.google.com/chrome/answer/95647?hl=en
Google Chrome Site Permissions – https://support.google.com/chrome/answer/114662?hl=en
Google Chrome Pop-Up Help – https://support.google.com/chrome/answer/95472
Blackboard Help Self Service – https://blackboard.secure.force.com/btbb_publichome
Help with Blackboard Ally – https://help.blackboard.com/Ally/Ally_for_LMS/Instructor
Help with Blackboard Collaborate – https://help.blackboard.com/Collaborate/Ultra/Participant/Support
The following are popular faculty resource links. More information can be found by accessing your SRSU Teaching Online With Blackboard (TOWB) site within Blackboard (see above).
| | | |
| --- | --- | --- |
| Content | Manage Course | Training Resources |
| | | |
Academic Affairs / Instructional Services
BAB 104
PO Box C-106
Alpine TX 79832

432-837-8524 | 432-837-8525